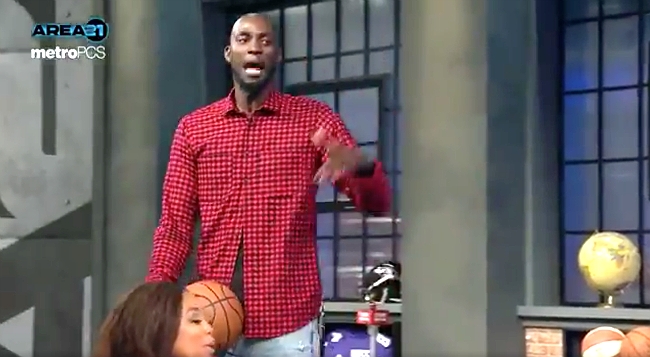 On Tuesday night Dwyane Wade safely put LeBron James in the category of one of the two best NBA players of all-time. Later that night, in a discussion on Kevin Garnett's Area 21, the NBA legend in his own right made it clear that Michael Jordan is, in his mind, the greatest player ever.
Garnett hosted "media night" on Tuesday's show, inviting Casey Stern, Jemele Hill, Shams Charania and Rosalyn Gold-Onwude on to talk about various league issues during the games and after the evening slate wrapped up. But a discussion about whether James or Jordan were the better player quickly went off the rails in Garnett's mind, forcing him to leave his chair and make an impassioned defense of Jordan as the GOAT.
The conversation stemmed from the amount of criticism LeBron gets compared to Jordan, and when Gold-Onwude suggested Jordan never faced the criticism LeBron gets today, he had enough.
"First off, out of professional sports he was here, while everybody else was here," Garnett said, motioning to place Jordan a significant step above everyone else in sports. "Michael Jordan was revered as a machine,"
Gold-Onwude asks if Jordan was more criticized than LeBron in his day, and Garnett is incensed.
"Are you serious?" Garnett asked, then listed off the criticisms Jordan faced like he was selfish or didn't trust anyone else. "You saw how hard he wanted it. You saw how hard he was going. And this is when Magic and Bird are still in the league!"
Garnett also credited Jordan's competitiveness with saving the league itself and forcing players to take the game more seriously.
"When basketball was on the verge of losing it. When we had addicts. When we had guys coming into camp out of shape," Garnett said. "Who do you think started coming into camp in shape ready to go day one? Who started that?"
This debate will go on basically forever, or until a player somehow comes and is better than everyone else who has ever played. But it's very clear what KG's answer is. LeBron is good, but Jordan is the GOAT.
Subscribe, rate, review the DIME podcast!