The best interview shows throw someone outside of their comfort zone and get them to open up. Hot Ones uses spicy chicken wings to do just that, setting a celebrity's mouth on fire and peppering them with questions.
Comedian Kevin Hart, however, is taking the opposite approach. In Cold As Balls, his new interview show on the Laugh Out Loud Network, Hart is talking to various people from the sports world while shirtless. The same folks that brought you The 5th Quarter — OBB Pictures — are making this show with Hart that has a unique twist. The interviewer and interviewee are sitting in cold tubs in a locker room – a familiar but still chilling place – for the athletes he's interviewing.
And Hart promises to ask the tough questions.
"As a father of three sons, which one do you like the least?" Hart asks a shirtless LaVar Ball as the two sit in ice baths. Look at LaVar here, trying to come up with an answer.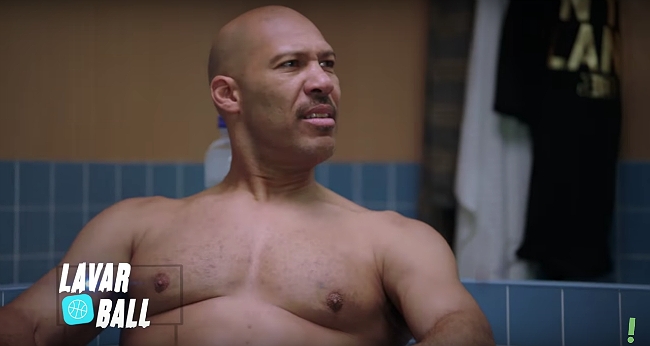 So it's going to be that kind of interview show. Cold As Balls will drop on YouTube on Wednesdays and Fridays. Special guest hosts Lil Rel and Terry Crews will also be asking questions, and the interview list is pretty impressive. Perhaps fittingly, LaVar Ball, is the show's first guest, with his episode premiering on Thursday morning.
Other guests scheduled for this season include a huge list of NBA stars, including Blake Griffin, Draymond Green, Nerlens Noel, Chandler Parsons, and Baron Davis. Candace Parker, Lindsey Vonn, Hope Solo, Desean Jackson, and Demariyus Thomas round out the athlete list. That's a lot of cold athletes, and some good chances for Hart to make some jokes at their expense.