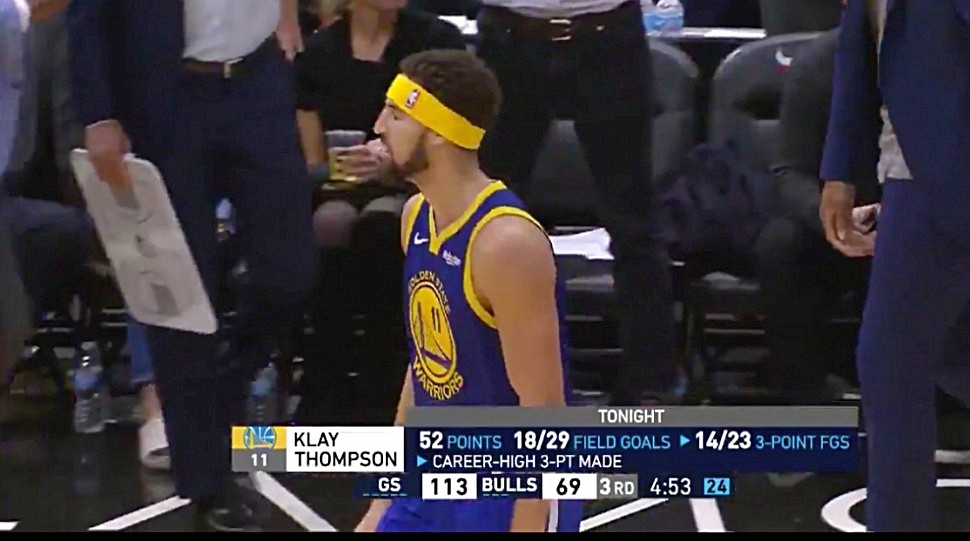 Klay Thompson entered Monday night's game against the Bulls in a serious slump, having made just 5-of-36 threes on the season, but he got right in a hurry in Chicago against the ghastly Bulls defense.
Thompson had 22 points in the first half and had that look that we were in for something special. At the half, he had 36 of the Warriors 92 points and 10 three-pointers, meaning he was just three away from Steph Curry's record for threes in a game and, provided he kept playing, it seemed like a matter of time before he broke his teammate's mark.
Sure enough, Thompson got to that magical 14th made three-pointer just seven minutes into the second half as Kevin Durant hit Thompson curling off a pindown from Curry, of all people, in transition.

That three gave him 52 for the game, making him the second member of the Warriors to drop 50 in three quarters this season — a reminder we're only eight games into the season. Thompson's other three makes from downtown in the second half all came on great looks as the Bulls defense seemed resigned to their fate of giving up a record-setting night to the Warriors.
The only question for Golden State and Thompson the rest of the night was how long would Steve Kerr let his starters light up his old squad, and whether the NBA record of 173 points in a game would be in jeopardy. Thompson, who was wearing the headband due to a cut from some friendly fire on a screen from Damian Jones, swiftly exited the game and went to the locker room to get that taken care of.