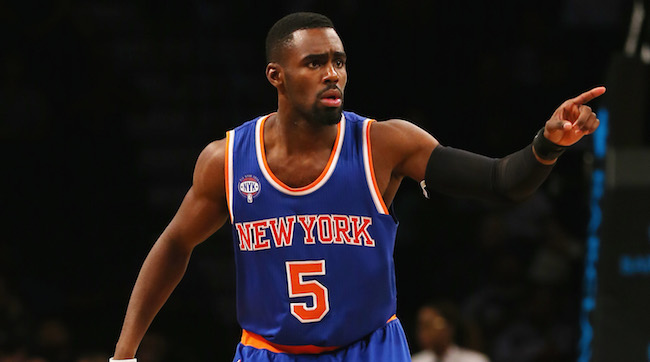 The NBA went almost two weeks without someone getting a comically high contract in free agency. The start of this year's free agency was the opposite of 2016, when the Lakers bolted out and handed Timofey Mozgov and Luol Deng a pair of awful 4-year deals on the first night, which caused L.A. to ship off an asset the quality of D'Angelo Russell for cap relief from Mozgov and a late-first round pick.
However, those that were worried we'd make it through free agency without an albatross of a contract were able to count on the NBA's greatest source of consistent front office hilarity, the New York Knicks — who gave Joakim Noah a monster deal last year, for some reason — to provide this year's comic relief. That came late Thursday night when the Knicks posted a 4-year, $71 million offer sheet for Tim Hardaway Jr., a player that they traded away for the 19th overall pick in the 2015 NBA Draft — who they turned into Derrick Rose, who was waived to clear space to sign Hardaway.
The move puts the Knicks on the hook for nearly $18 million a year for a player that, at his best, is a streaky scorer and, at his worst, is unplayable because of defensive issues and lapses. The Knicks, of all teams, know this considering they drafted him and eventually shipped him off to Atlanta. However, he's the latest graduate of the wing program at Hawks University to be granted a massive free agent deal. The past two have been busts, in DeMarre Carroll and Kent Bazemore, and there isn't much optimism that Hardaway will live up to his deal.

The amazing thing is that even the Knicks note that Hardaway will require significant improvements on both sides of the ball to come close to being worthy of his deal, and yet they gave it to him anyways.
It's understandable to take a risk on a young player with potential. We see it all the time. Guys get drafted higher and paid big money in free agency off of potential. However, the Knicks of all franchises should understand what Hardaway Jr. is and isn't. By all accounts he put in a ton of work in Atlanta to make himself a rotational piece for the Hawks who, at times, carried the load on offense when he got hot. That said, he has, by most any metric, been a net negative on defense for his entire career and he's not a particularly efficient scorer — 17th among all qualified shooting guards in true shooting percentage at 56.8 percent.
This isn't a Hardaway problem, he didn't force the Knicks into his deal, and he's smart to jump at the opportunity to sign the deal. This is a Knicks problem. They have complained ad nauseum about Carmelo Anthony's ball-stopping qualities, yet they hand a massive, long-term deal over to a guard that posted a career-best 14.3 assist percentage last season. That lands 0.2 percentage points below Anthony's mark last season, which was the second-lowest of his Knicks career.