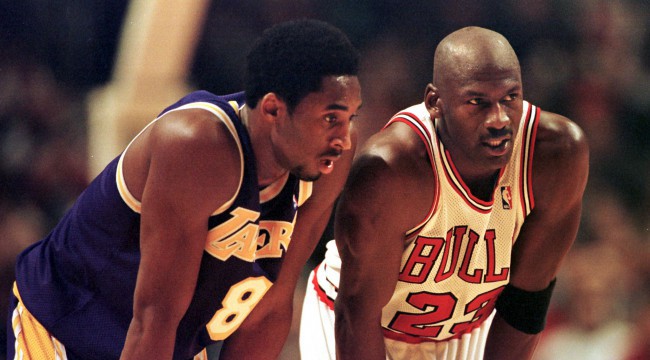 The Kobe Bryant farewell tour will arrive in Toronto next month for the NBA All-Star Game. Bryant leads the league in All-Star voting by a wide margin, a true testament to his mythic status. The brilliance only comes in flashes nowadays, but the Mamba has performed admirably this season after a horrid start. He's putting up 16.3 points, 4.3 rebounds and 3.5 assists per game in season 20, and if he wasn't sporting a career-low 44.6 true shooting percentage, he might be tempted to have him return. But this is not a legitimate All-Star season for him despite the fact Kobe will be in Toronto with the rest of the Western Conference elite.
Bean's final All-Star Game is reminiscent of Michael Jordan's last All-Star Game in 2003. A young Kobe went toe-to-toe with His Airness in that game and didn't hold anything back against a 40-year-old GOAT.
In an interview with Marc Spears at Yahoo Sports, Bryant expressed a similar desire for competition in Toronto.
"One thing that Michael said was, 'Just because it's my last All-Star Game, I don't want you to come out there going soft on me,' " Bryant recently told Yahoo Sports. " 'I want you to play me how you would normally play me.' I was like, 'Mike, what do you know about me that would lead you to tell me that?' We both got a good laugh out of that.

"The thing I remember most was the competition. Those are the things that I will always cherish. Hopefully, they will come out and compete as always this year. Those are the things I will always carry with me. Just true competition."
Whether he's in the NBA Finals or the driveway with his kids, Kobe wants to win. His pathological competitiveness is the driving force behind his stature as an all-time great. He'll hoist a few jumpers in a rather meaningless All-Star Game for the last time next month, but if he has it his way, the youngsters won't take it easy on him and his team will still come out on top.
(Yahoo)
Now Watch: The Greatness Of Kobe Bryant's Legacy