At some point between landing in Los Angeles to watch Vanderbilt point guard Darius Garland workout in secret and the flight back to Cleveland, Cavs general manager Koby Altman started having visions. Despite access to just five games of tape of Garland's time as a Commodore, despite legitimately questions about his fit next to the point guard Altman drafted at this time last summer, photoshopped images of Garland in a wine and gold jersey danced in Altman's head.
"We started to become fascinated by that idea (of drafting him)," Altman said. "When we saw him workout, and saw him take 30-footers and just flick them like it was nothing, it was like, 'OK, how can this work out?'"
One season removed from LeBron James turning his summer home into his permanent home, the Cavs found themselves in a fortuitous position on Thursday night. After an early injury to Kevin Love resulted in the overhaul of an organizational philosophy last year, the Cavs executed a tank with technical precision. Collin Sexton, the point guard taken at No. 8 overall in the 2018 draft, had transformed his game by the end of the season, buoyed by the late return of Love to the lineup. Cedi Osman, the still very much raw Turkish wing, tucked another season of experience under his belt. Altman shipped out veterans like George Hill, Rodney Hood, and Alec Burks, shedding the final layers of skin from a team that had made four straight NBA Finals, took a look at players like Marquese Chriss and Brandon Knight, and the Cavs sputtered to the finish line in a better place than which they began.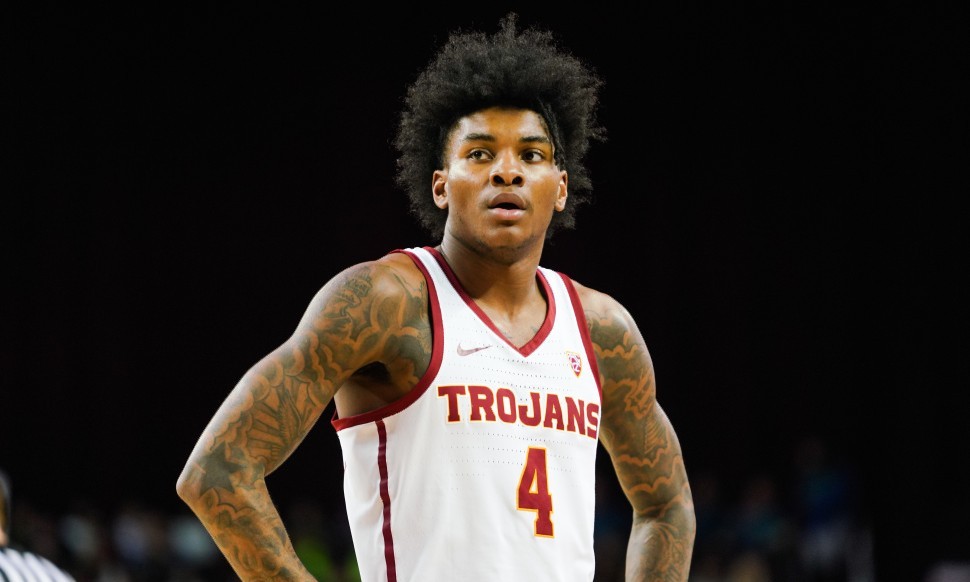 As Altman and company, including new head coach John Beilein, turned their head to what feels like the true beginning of a rebuilding with the 2019 Draft, Garland's availability at No. 5 and the Cavs' subsequent interest in him signaled a plan: take the most talented players at the draft position available, and worry about everything else later. The selections of both Garland and USC's Kevin Porter Jr., who the Cavs gave up four future second round picks and $5 million in cash to snag at No. 30, also speak to the Cavs updated adherence to the modern NBA.
Garland is a score-first point guard, fearless pulling up from a mile beyond the three-point line and devastating playing off the pick and roll. With ball screens becoming the appetizer of choice for initiating NBA offenses, the two things Garland does best fit into what a ball handler should be able to do in 2019. Porter, though inconsistent in his time as a Trojan, flashed a nightmare of a step-back move and is fluid and skilled enough to create space off the dribble. He's also a terror in transition, where he ranked in the 89th percentile of all players by averaging 1.308 points per possession last season, per NBA Stats & Info. Outside of Sexton, the Cavs had few players with the ability to create their own shot or play in space last season.
In essence, the Cavs took two players whose best qualities fit into what John Beilein wants to on offense. Even Dylan Widler, the most questionable pick of the three the Cavs made in the first round, fits into this mold, bombing away from deep at a high and ruthlessly efficient clip and finishing strong around the rim.
Juxtapose that with the Cavs' of selection of Sexton, who at the time preferred tough, mid-range jumpers over any sort of three-point attempt, and it's clear that the Cavs vision has modernized. Questions about fit are coming, as the pair may never mesh all that well, though Altman presented a confident front that Sexton and Garland can thrive in Beilein's patented two-guard offense.

"It fits because they both can really shoot and they both can make plays off the bounce," Altman said. "We spoke to Collin before the draft and said this could happen, and he was great. He'd been studying Portland all playoffs, studying the two guards out there, and he brought that up. He said 'That could be us.'"
Beilein's fingerprints are all over this draft, with Altman referencing the former Michigan coach's involvement in the process numerous times. Beilein sat down and watched tape with Windler, and Altman said Beilein's ability to communicate with each player's college coach in ways he couldn't was a valuable piece of data. It will be his charge now to extract the best from Garland, Porter, and Windler, and a failure to do so will leave the Cavs jogging in place. One of the worst defensive teams in the NBA last season remains historically defensively challenge.
But for now, the Cavs are pushing their chips all in on modern characteristics, lack of tape, questionable fit or inconsistencies be damned.