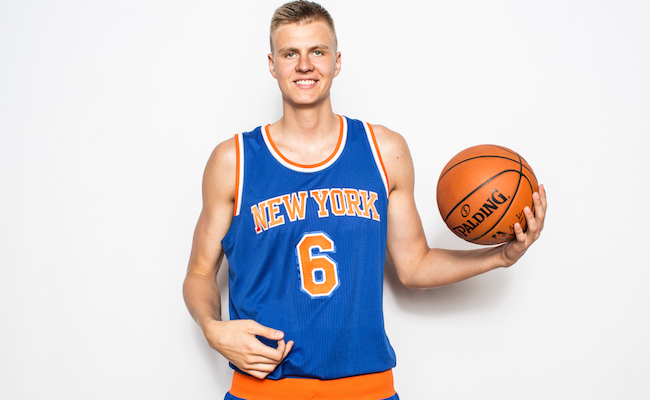 It appears New York City is quickly becoming plagued with Porzingis Fever. No, it's not a horrible third-world disease, it's the widespread appreciation of Knicks rookie big man Kristaps Porzingis, who has been doing his best to prove he was worth the fourth overall pick in this past summer's draft.
Porzingis has come out of the gates hot early in his rookie campaign, and he's already starting to reach superstar status in one of basketball's biggest markets. Between his goofy personality, his thunderous putback slams and his playmaking abilities, fans are so swept up in the hype that they're flocking to stores around Madison Square Garden and scooping up all the Porzingis jerseys they can find. Apparently, the NBA was not prepared to handle it.
Although they're becoming a commodity around the Big Apple, stores in the area are making sure to stock up on merch in preparation of the Latvian import winning over even more fans.
As of Wednesday afternoon, Modell's online store was sold out of Porzingis No. 6 jerseys, and the Modell's store next to MSG was down to nine Porzingis items, according to Dave Brown, a Modell's license buyer. Brown says that, in advance of Black Friday during the Thanksgiving holiday, Modell's stores throughout the city will be stocked with Porzingis threads.

…

The NBA told the News Thursday Porzingis jerseys were available after the draft, but have since sold out. The league hopes to have them back up Friday on NBA.com, and said if you can't wait, you can always customize your own Porzingis jersey on the site.
New York City hasn't fallen in love with an unlikely star this hard since Jeremy Lin burst on the scene in 2012. Unfortunately, all of that Lin gear that flew off the shelves has become a bit outdated, as the "Linsanity" era wasn't long for New York. All the fans making an investment in Porzingis have got to be hoping he's got more staying power.
(Via NYDN)
Now Watch: LeBron James Scores Points With Charity