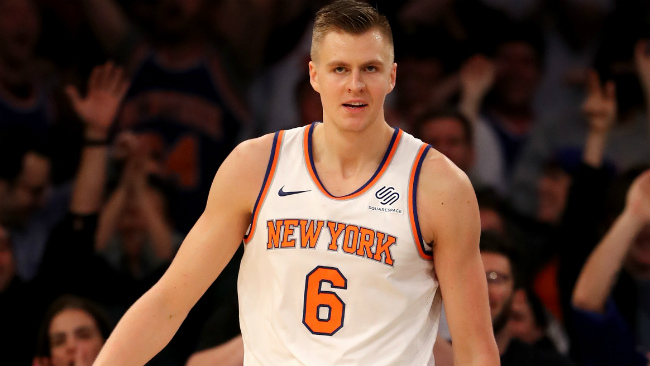 When the Knicks took Frank Ntilikina out of France with the eighth overall pick in the 2017 NBA Draft ahead of Dennis Smith Jr. out of NC State, the two were always going to be compared. Smith went to Dallas at No. 9, and when he tore up Summer League in Las Vegas, there was plenty of chatter about whether the Knicks made a mistake.
Smith is averaging 14.8 points, 5.1 assists, and 3.7 rebounds per game, although he's struggling with efficiency with a 46.8 effective field goal percentage. Ntilikina sat out early in the season but has appeared in 10 games so far for New York, averaging 4.4 points, 5.0 assists, and 1.6 steals per game in 20 minutes per, with even bigger struggles with efficiency with a 38.7 eFG percentage.
Neither player is lighting the world on fire and it's far too early to consider one the clearly superior player, but the argument about the two was heated up on Saturday night after LeBron James' comments about Smith. LeBron said he "should be a Knick" after Smith posted a big 21-point game on the Cavs, which certainly seemed like a jab at the Knicks and former president Phil Jackson.

Members of the Knicks were quick to support their young point guard, with Kristaps Porzingis and Enes Kanter both voicing their support of Ntilikina and also questioning why LeBron was even talking about it, via Adam Zagoria from SNY.
"I mean I don't know why he made those comments, but all I can say is we love Frank, we're happy with him," Porzingis said of James. "He's doing a great job. He's playing great, and he's doing what he's supposed to. And I would not change Frank for anybody. Simple."

…

"I don't care who, I just cannot let anyone disrespect my family like that because when I play for an organization, I see my teammates and that organization as like a family," Kanter said. "And I doesn't matter if it's LeBron or whoever it is, I cannot just let him disrespect him like that. The coaches, the GMs, the president, this organization knows what they're doing.

"I mean, come on. That's a rookie. You cannot just say anything like that about him.

"I don't care, it doesn't matter LeBron or whoever it is," Kanter added. "I don't care who. I cannot let anyone disrespect my family like that."
LeBron probably wasn't trying to slight Ntilikina, but simply praise Smith and also take a little jab at the Knicks in the process. That said, it's nice to see the Knicks' top star and other teammates coming to Ntilikina's defense and taking up for the rookie point guard. Ntilikina and the Knicks will get a chance to prove that value to James when the Cavs come to Madison Square Garden on Monday night.