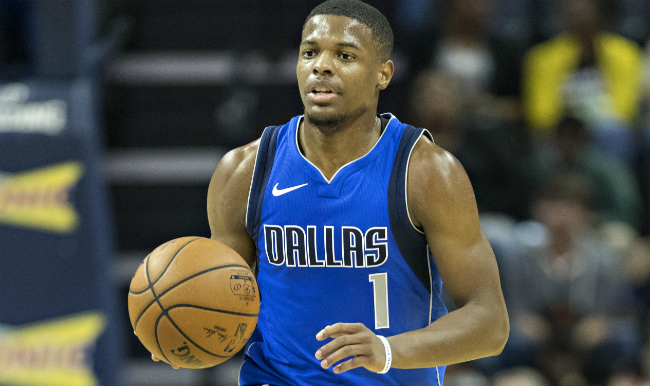 LeBron James got to check out one of the brightest young point guards in the NBA on Saturday night when the Cleveland Cavaliers faced the Dallas Mavericks. After the game, LeBron saw enough of said point guard to say with 100 percent certainty that the New York Knicks made a mistake during the 2017 NBA Draft.
The point guard in question is Dennis Smith Jr., an ultra-dynamic guard who went ninth overall in the draft. He was selected — somewhat controversially — behind Frank Ntilikina, a talented-but-unknown guard from overseas who the Knicks took eighth.
Neither player has been outstanding so far — Smith's numbers are better, but he also plays more and has more of a green light to shoot. But still, LeBron watched Smith fill up the box score during the Cavs' 111-104 win over Dallas and knows the Knicks dropped the ball on this one.
https://www.instagram.com/p/BbYgO1_lhIX/
Smith put up 21 points on 8-for-16 against Cleveland. He also dished out seven assists, pulled down five rebounds, stole two balls, and blocked two shots. During the draft, there was small group of people who thought he could go on to have the best career of any prospect in the field, and while Ntilikina had a ton of potential, Smith's ceiling was almost universally viewed as higher.
Hindsight is 20/20, sure, but even before Smith's performance against Cleveland, LeBron's sentiment was somewhat common. It's nothing against Ntilikina; Smith is just really good.