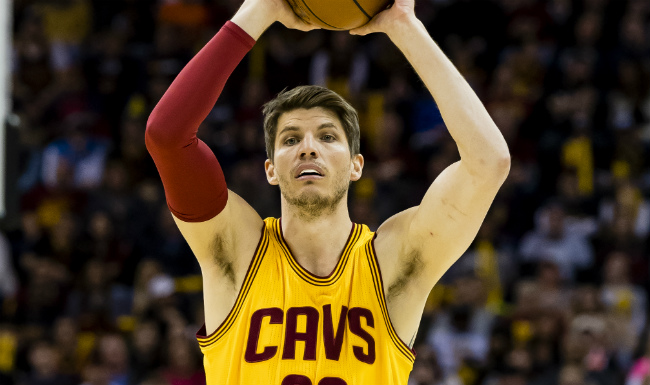 In the aftermath of the deal to acquire Jimmy Butler from the Minnesota Timberwolves, the Philadelphia 76ers now have three top-tier players on their roster. That is a fantastic place to start when attempting to compete for an NBA title in the future but, before the Sixers can take the next step, other portions of their roster likely need to be addressed, particularly in the area of depth.
While Philadelphia's roster is impressive at the top, the 2-for-1 deal executed with Minnesota slashed into the team's already depleted bench and, even with the strong possibility that Wilson Chandler improves during the season, the Sixers could use an infusion on the wing. Ideally, that player would also be able to stretch opposing defenses with a dead-eye jump shot from long distance and, on Tuesday, a name emerged as a possibility.
Marc Stein of the New York Times, in his NBA newsletter, posited that the Sixers "remain highly interested" in Cleveland Cavaliers sharpshooter Kyle Korver, which makes plenty of sense. After all, Korver (who spent 4.5 years at the start of his career in Philly) is one of the best shooters in the history of the NBA and, at this stage, his value to the Cavaliers is far less than it would be to a theoretical contender.

However, Stein went on to say that the deal involving Butler could actually hamper the Sixers in an attempt to add Korver to the mix, as the best apparent salary fodder for a deal ($8.6 million in the form of Jerryd Bayless) was sent to Minnesota. Korver has an expiring $7.56 million salary and, while that isn't impossible to acquire by any means, Philadelphia's core would be off-limits as part of a deal.
The only current salaries in that range are that of Markelle Fultz ($8.34 million) and Mike Muscala ($5 million), making things a bit difficult. Fultz is a unique situation, but even the most pessimistic viewpoint of the former No. 1 overall pick would place him in a higher trade value bracket than that of Korver on an expiring deal. Unless the Cavaliers included draft capital (unlikely with Collin Sexton on board), that would seem to be a non-starter. With Muscala, the fit could be a bit better but, in the same breath, the Sixers would have to add more salary and the team needs Muscala's floor-spacing and utility as a backup big man.
There are ways to make a Korver deal happen — whether by acquiring salary filler elsewhere, involving a third team, or compiling three or four low-cost pieces into one trade — but none are as easy as Bayless would have been. It should be noted that it is at least tangentially possible that the Cavaliers are unable to find a satisfactory trade for Korver and, if that happens, he might enter the buyout market. At that point, he would be free to sign elsewhere but, but until that scenario unfolds or the Sixers can make things work via trade, Elton Brand and company may be left looking for a veteran shooter elsewhere.