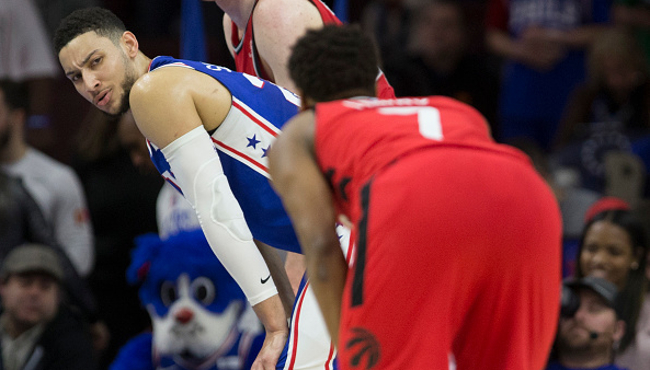 The NBA's Martin Luther King Day slate was, unfortunately, marred by a number of on and off-court altercations as tensions boiled over between players and opposing coaches, most notably at the Clippers-Rockets game at Staples Center that has since become the internet's favorite new viral sensation.
Lost in the melee was a comparatively subdued confrontation during the Sixers-Raptors contest that likewise spilled over into the tunnel after the final buzzer. Kyle Lowry and Ben Simmons both earned ejections for a verbal altercation in the final seconds of Philly's 117-111 win over Toronto, and in the video you can see Simmons motion for Lowry to meet him in the back, to which Lowry eagerly obliged.
According to reports, their ensuing showdown went off without much fanfare, but Lowry is still implying that he was more than ready to meet up with the Sixers' rookie point guard.

Most scenarios like these constitute little more than empty threats and tough-guy posturing, and the fact that nothing much came of their meeting in the hallway is just a further testament to that. Still, a lot of guys still feel the need to establish their cred, and the league has wisely attached a significant price tag for anyone who decides to cross a certain line.
Anyway, the Sixers and the Raptors are done playing one another during the regular season, so if you want to see if these tensions will boil over the next time Lowry and Simmons face off, you'll have to wait for a potential matchup in the postseason or next year.