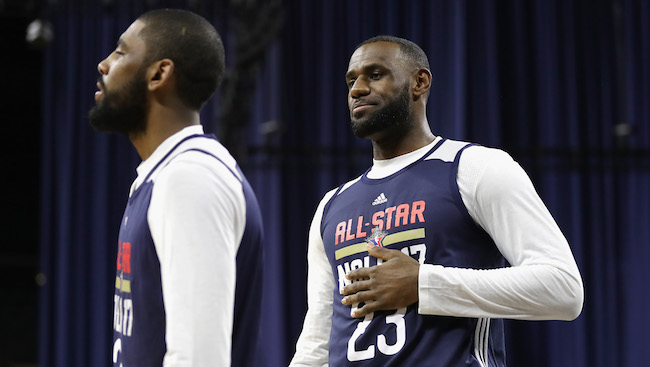 While the basketball world was unfairly deprived of seeing the 2018 NBA All-Star Draft firsthand, there was plenty of intrigue surrounding the order of selection and everything else involved in the process.
LeBron James, and plenty other players, weren't thrilled with the unpopular decision not to televise the draft, but in the end, that frustration was almost outweighed by the fact that LeBron selected former-teammate-turned-nemesis Kyrie Irving to his squad.
James, in typical fashion, downplayed the significance in saying it was an "easy choice" to pick Irving and thus shifted the attention back to his former point guard to respond. On Friday, Irving did just that, and he, too, took a diplomatic route.
Chris Forsberg of ESPN brings word from the All-Star playmaker.
"It will be fun [to play with James and Love]. All-Star weekend's just an enjoyable experience. It's a time for us as competitors to get together when we're not necessarily with our teams and going against one another. It's great to see the two captains choose who they felt were the best fit for their team, and I'm glad that I'm playing with a bunch of great players."
In addition to Irving predicting "fun" when playing with James and Kevin Love, he went on to indicate that the trio have "a bond that can't be broken forever" as a result of their miraculous 2016 NBA Championship. Of course, that does not always emerge, especially lately, when thinking of the players on different sides of the always-entertaining NBA news cycle, but seeing both Irving and James take the high road is definitely interesting.
There will be plenty of extra attention paid to their every move in Los Angeles over All-Star Weekend, but for now, it appears all is quiet on the controversy front.
(ESPN)