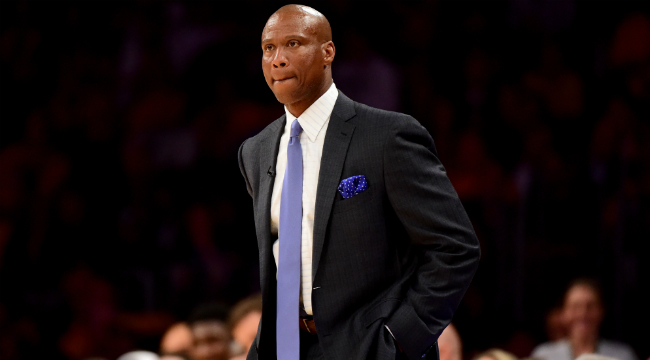 Byron Scott's homecoming as the head coach of the Los Angeles Lakers has lasted just two seasons. Late Sunday night, the organization made it official that it would not be picking up Scott's team option for next season. Yahoo's Adrian Wojnarowski was first with the news.
'We would like to thank Byron for his hard work, dedication and loyalty over the last two years, but have decided it is in the best interest of the organization to make a change at this time," said General Manager Mitch Kupchak in a statement relayed by USA Today. Interestingly, the paper added that team president "Jeanie Buss did not take part in the decision to part ways with Scott. While she has final say within the organization, Jim Buss and Kupchak were given full authority to make this basketball choice."
ESPN.com added that the Lakers met twice with Scott this past week to discuss "philosophical issues" moving forward, and clearly the organization didn't feel Scott was on the same page. Again, the interesting thing here is that all signs point to Jeanie Buss being in Scott's camp — that, and Scott's firing doesn't necessarily indicate future front office shake-up:
According to the USA Today, Scott's firing is also a 180 from a report earlier this month from CBS stating Scott had a "major chance" to coach the Lakers in 2016-17:
The internal thinking was two-fold: not only had Scott done what was deemed to be a capable job of handling the Bryant retirement tour and everything that came with it, but there was some late progress with some of the team's most important young talents that would be taken into consideration as well.
That line of thought apparently wasn't enough. Yes, the Kobe farewell tour was a success, marked mainly by his 60 points against the Jazz in his unforgettable finale. And, yes, there's some young talent the Lakers have picked up through the draft whose collective ceilings are high. However, the records never reflected this — the Lakers need to score big in free agency, as well — and the team chemistry was fractured, especially given the whole Nick Young/D'Angelo Russell video ordeal.
Do the Lakers have bigger issues than Scott? Absolutely. But you can't fire players and the front office stuff is to be determined. For now, this is as close to a fresh start as the franchise is going to get.