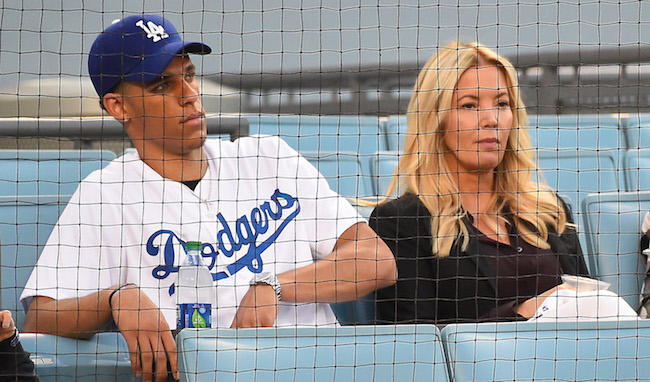 Lonzo Ball enters his rookie season with more hype than we've seen for a rookie in some time. Much of the Ball hype is self-created thanks to his father, LaVar, constantly telling everyone how Lonzo will be one of the all-time greats and the fact that he was selected by the Lakers, where every top pick comes in with a brighter spotlight.
However, as we near training camp, Ball is beginning to receive incredibly high praise from those in and around the Lakers organization. Laker legend and current Lakers TV analyst James Worthy was the first to heap praise on young Lonzo by comparing him to the best point guard in Lakers history and one of the best players of all-time, Magic Johnson.
Worthy isn't alone in bringing that comparison into play, though. On Friday, Lakers owner Jeanie Buss went on the Petros and Money Show and AM 570 LA Radio and made her own comparison between Ball and Magic (via Lakers Nation).

"There's something special about Lonzo […] I think because he just wants to play basketball, he's selfless. He has a certain charisma and I think the fact that his teammates at UCLA loved playing with him and all the nice things that they have to say about him, I think he's going to bring an element that's very similar to Magic Johnson."
Any time a top draft pick is coming into the league it's hard for those excited for their debut not to heap lofty expectations on a potential young star. Many questioned whether LaVar Ball's boasts prior to the draft would hurt Lonzo or put too much pressure on him, but now it seems as though more and more around the Lakers are having a hard time managing expectations and not letting themselves get overly ambitious in their comparing Ball to a legend like Magic.
The problem, of course, with noting Ball's similarities to Magic — even if there are some — is that it will be nearly impossible for him to reach the same level of Johnson. It wouldn't even be a failure for Lonzo to not become Magic freaking Johnson, it would just mean he was really good instead of one of the 10 best players of all time.
(h/t Pro Basketball Talk)