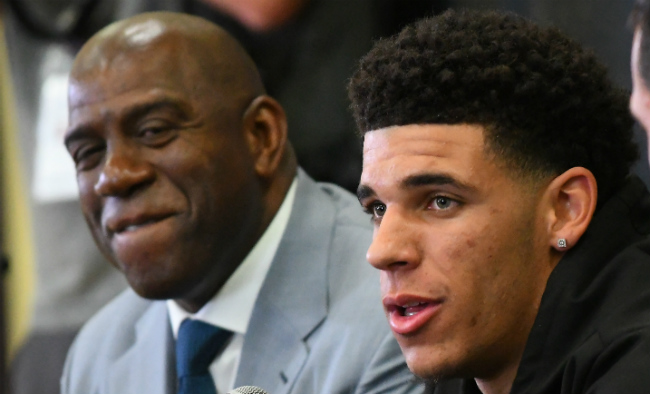 It's not a stretch to say that there's a ton of optimism among the future of the Los Angeles Lakers. This is especially true when it comes to their young 1-2 punch of Brandon Ingram and Lonzo Ball, a pair of back-to-back No. 2 overall draft picks. Ingram is a smooth scorer on the perimeter, while Ball came to the franchise with a ton of hype.
Part of this is because he's a native of Los Angeles, but it's also because his style of play is so similar to an all-time Laker great: Magic Johnson, who of course is the team's president of basketball operations. Ball is a prodigious passer with an uncanny feel for the game and the unique ability to set his teammates up all over the floor, all talents that Johnson also possessed.
This comparison has been thrown around a little, and another ex-Laker agrees with the assessment. TMZ caught up with James Worthy, who heaped praise onto Ball's game.

"He enhances everybody on the court," Worthy said. "We haven't had someone with that type of talent really since Magic."
This is a big statement since, you know, the Lakers have had a ton of talent since Johnson retired. But Johnson really wants these massive expectations to be put on Ball, with his logic being that great players embrace the pressure that comes from being a superstar, so he was probably stoked that Worthy believes the hype around the Lakers' young point guard.
(Via TMZ)