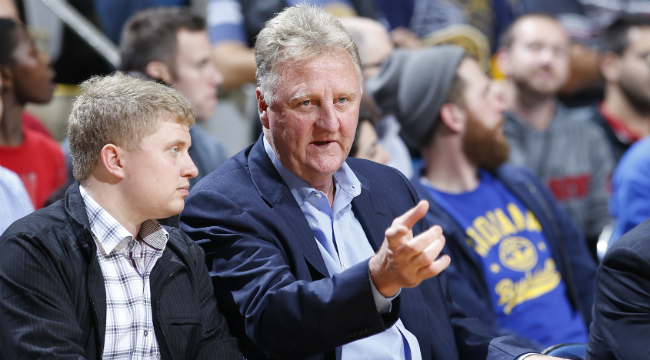 Getty Image
If you pay attention to the NBA at all, and the talk that surrounds the NBA, you've assuredly heard a lot of blather from various former players about the modern game. Granted, this is not unique to the NBA. You hear it in every sport, and also music, TV, and basically everywhere. However, with the proliferation of the three-point shot in the NBA, and the way the game is fundamentally changing, the talk is getting even louder amongst the Charles Barkleys and Charles Oakleys and other guys named Charles of the world. One legendary player, though, is able to break free from the chains of self-aggrandizement, and that's Larry Bird.
Bird, alongside Reggie Miller, was interviewed for an article about the rise in the three-point shot, and the possibility of a four-point shot. Miller says a bunch of bizarre stuff in the piece, but, you know, he's Reggie Miller, so nobody is surprised. Bird, however, did have something interesting to say, as he opined on the modern league at length:
"It's funny how the game has changed, and my thinking about it. I was really worried—back sixteen, seventeen years ago—that the little guy didn't have a spot in the N.B.A. anymore: it was just going to be the big guards like Magic Johnson. But then players started shooting more threes and spacing the court, and everyone wants small guards now. Watching these kids play now, I'm like everybody else: Wow, man. They can really shoot! They have more freedom to get to the basket. The ball moves a little better. These kids are shooting from farther, with more accuracy. Now some teams shoot up around thirty threes a game. My era, you always think that's the greatest era. But I'm not so sure anymore."
Larry Bird is able to both feel strongly about his own era, but also recognize that, perhaps, it is possible for it to not be the best era of all-time. See, other former NBA players, it's not so hard.
(Via The New Yorker)