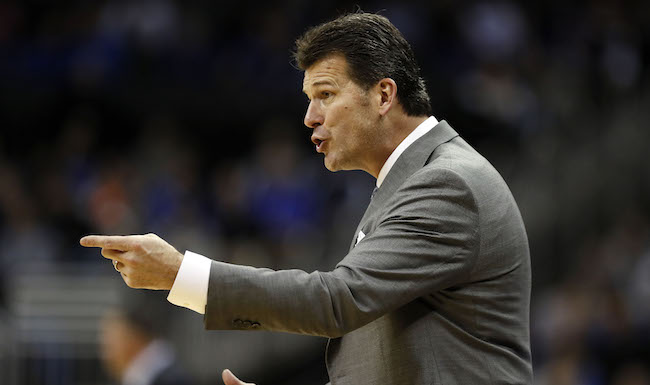 LiAngelo Ball's tenure at UCLA was short, yet eventful, even though the middle Ball brother never even touched the court for an actual game in a Bruins' uniform.
Ball was among the three UCLA players arrested for shoplifting in China, which became an international saga involving Donald Trump and an eventual feud between the president and Ball's father, LaVar. On Monday, LaVar announced he would be pulling LiAngelo out of UCLA in response to the program's indefinite suspension of LiAngelo and the others for their role in the shoplifting incident in China.
LaVar will be bringing LiAngelo into the Big Baller Brand Academy alongside younger brother LaMelo, who was pulled out of high school this year by LaVar. The two will spend time preparing for the NBA draft, although LiAngelo is not considered an NBA prospect by most. The news was unofficial for much of the afternoon, but UCLA coach Steve Alford eventually released a statement on LiAngelo's departure from the program.

It's the college equivalent of a "future endeavors" statement by a team when releasing someone, and it doesn't seem as if Alford or the program are all that broken up about LiAngelo's departure. Alford says they respect his decision and wish him the best going forward, which is about all a coach should say about the matter.
The last thing Alford or UCLA needed was to end up in a spat with LaVar. At this point, the school is likely happy to move on from the Ball family, even if LaMelo is still committed to go there in 2019 (few would anticipate that actually happening at this point, for one reason or another).