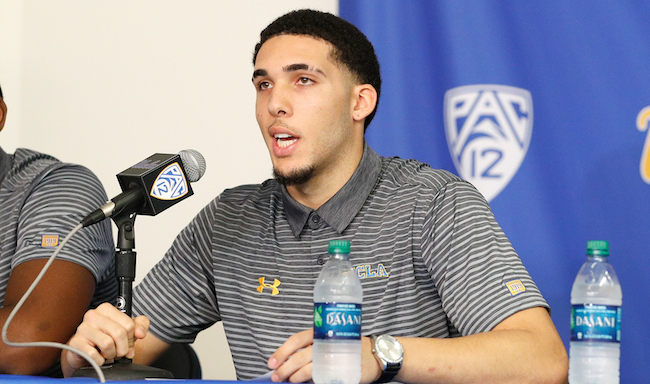 UCLA announced an indefinite suspension for the three players that were arrested for shoplifting in China last month. Among those players was LiAngelo Ball, younger brother of Lakers first round draft pick, Lonzo Ball, and the son of outspoken sports dad, LaVar Ball.
LiAngelo and his UCLA teammates may or may not have been facing serious jail time, as China doesn't take shoplifting lightly. This sparked a lively feud between LaVar Ball and Donald Trump, with Trump demanding a 'thank you' from both LaVar and LiAngelo for working with China to set the UCLA players free. LiAngelo thanked Trump, LaVar sent him a pair of Big Baller Brand shoes, and here we are.
The latest twist in this saga comes courtesy of TMZ, who was first to report that LaVar Ball has actually pulled LiAngelo Ball out of UCLA, citing an unfair punishment for the shoplifting incident. TMZ is claiming that an associate close to LaVar said that "there's no need to break down a kid's spirit for making a mistake."
ESPN's Jeff Goodman followed up TMZ with a report of his own. According to Goodman, LiAngelo is done with UCLA, and the Ball family is "exploring other options with Gelo."
In TMZ's first report, they noted that LiAngelo hasn't officially declared his intent to leave UCLA, but he's been sitting at home while the UCLA basketball season rolls on, and we assume, missing his classes in the process. As for what is next for LiAngelo, there are options. Adam Zagoria of The New York Times and SNY reports there are mid-majors already prepared to offer LiAngelo a scholarship, undoubtedly looking to bring some added attention to the program along with more depth.
https://twitter.com/AdamZagoria/status/937788990492741632
ESPN's Darren Rovell also spoke to LaVar Ball about the situation, and Ball apparently told him the plan is to prepare LiAngelo Ball, who by all accounts is not an NBA prospect in the slightest, for the NBA Draft.
Goodman confirmed that was the plan.
So, it appears LaVar will be entering LiAngelo into the Big Baller Brand Academy along with his youngest son LaMelo, who he pulled out of Chino Hills High School earlier this year to homeschool. It would take a tremendous amount of transformation to make LiAngelo into an NBA prospect, but you can bet LaVar will be pushing the hype train as far as it will go to try and get him some kind of buzz.