LeBron James finally delivered on his promise to bring home a title to the city of Cleveland on Sunday night, as his Cavs defeated the Warriors in Game 7 of the NBA Finals in Golden State. Though LeBron didn't drop the game's winning bucket, he did have an incredible jaw-dropping defensive play in the final minutes that helped swing momentum in Cleveland's favor.
With just under two minutes remaining in a tied game, LeBron ran nearly the full length of the court to disrupt a Warriors fast break with an insnae chasedown block on Andre Iguodala's layup attempt. Not only was it a great hustle play, but it also showcased LeBron's intelligence and athleticism.
To see it in real speed is pretty mind-blowing:


Not only was he able to track the ball between Iguodala and Steph Curry, but also successfully anticipated Iguodala's layup and exploded towards the backboard.
In case you had any doubts about how freakishly athletic a play it was, James nearly hit his head on the rim as he soared toward the bucket, then pinned the basketball to the glass in denial.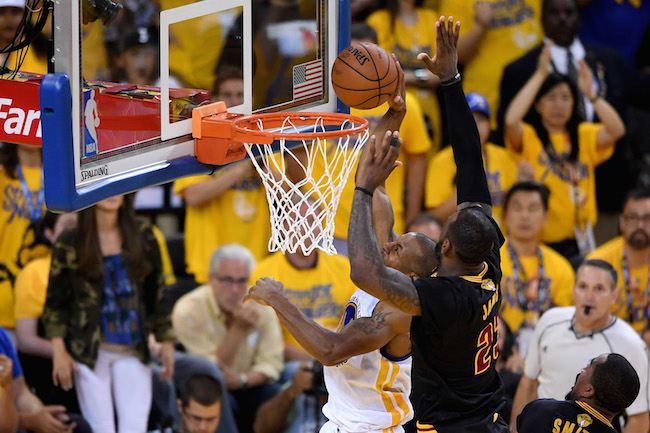 The play would ultimately be a huge one for the Cavs, who managed to take the lead (and hold it) after LeBron somehow kept it tied.