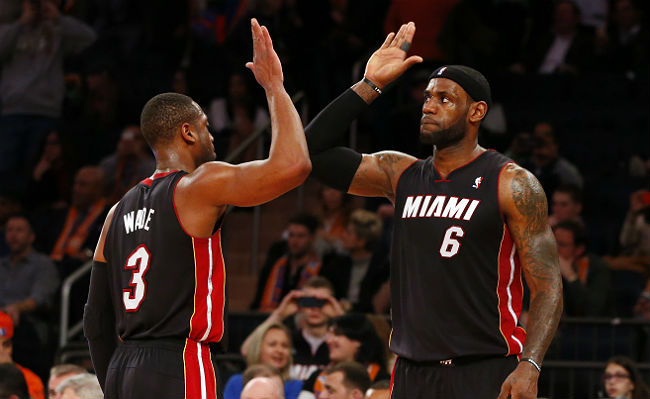 LeBron James and Dwyane Wade's final game against each other came down to the last shot, as everyone hoped it would. Wade was unable to shake free of his longtime rival, friend, and at times teammate at the top of the key, ultimately hoisting a heavily contested turnaround three that crashed off the backboard.
The Lakers won and LeBron can hold onto the bragging rights of ending their career-long series with a one game advantage at 16-15 against Wade. He'll undoubtedly use that at some point to poke at Wade, but after the game it was all love between the two, reminiscing about their careers and how they got to this point.
Wade got emotional on the court after swapping jerseys with James, telling Dennis Scott on the NBATV broadcast that he was going to miss these kind of moments and facing off with one of the best to ever play in LeBron. James and Wade have been linked since that 2003 draft and their bond has only grown tighter over the years, with LeBron eventually joining Wade in Miami in 2010.
That first season in Miami, LeBron was lost, personally, when it came to how to handle his sudden heel turn in the public eye. Going to Miami to form a super team with Wade and Chris Bosh caused him to become public enemy No. 1 around the NBA and he struggled with his perception as a villain since he'd only ever been a beloved figure since high school.

After Monday night's game, James explained to ESPN's Dave McMenamin that a conversation on vacation in the Bahamas with Wade, Gabrielle Union, and his wife, Savannah, was key in shaking him out of his funk and reasserting that he couldn't try to embrace the villain role.
"They got on my ass," James said. "My agent, Rich Paul, and D-Wade and even Gab and my wife, they got on me.

"They were just like, 'Listen, you need to get back to who you are. We understand the portrayal of what they want you to become right now. That's not you. You didn't get to this point in your career by playing the game with the black hat and with that mentality of it's me against the world. You need to get back to that Magic Johnson feeling, mixed with some other guys — that Penny Hardaway flair, but still that determination of MJ (Michael Jordan). You need to get back to that because that's just who you are. You are who you are. You're no one else, don't try to be no one else.'

"And that started from the first day we got there. And then we enjoyed the rest of our g–d— vacation. I took that to heart. I definitely took that to heart and that just changed me from that point on."
LeBron isn't the type that can ignore criticism and embrace being a hated personality. Trying to do so simply wasn't him and got him off of his game. He needed to play with a love and appreciation of the game, understanding not everyone was going to like him but that he didn't have to actively try to make himself the bad guy.
It was an important conversation and one that James feels changed him moving forward, which obviously paid off for all involved as the Heat ripped off two titles in the next three years. James is once again a beloved figure in the sports world, partially due to his departure from Miami, but also because his final three years with the Heat he was so good and played with that flair that made even the biggest detractors have to begrudgingly give him his just due.