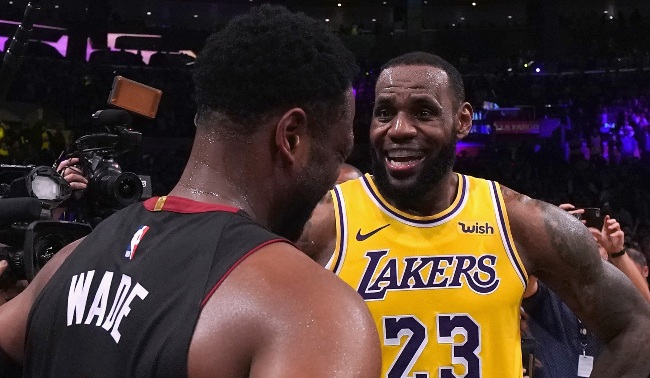 Despite the fact that their team had the night off on Monday, fans of the New York Knicks had a pretty bad evening. That's because, at the conclusion of the game between the Los Angeles Lakers and the Miami Heat, LeBron James said something to Dwyane Wade that made it sound like he could have been a Knick if the team wanted to acquire his services.
James told Wade that their final matchup could only have happened in one of two venues: Staples Center or "The Garden." This led to most people thinking James would have liked to end up in New York for the presumed final chapter of his career instead of Los Angeles — or at the least that the Knicks would've been in consideration.
But as it turns out, that wasn't necessarily the case. Joe Vardon of The Athletic got some details about exactly what James meant, and it had more to do with the gravity of his final matchup against Wade than anything else.

"According to multiple sources close to James, he meant that a final meeting with Wade was so special, it could only be held at a venue like Staples Center or Madison Square Garden — two history-rich arenas in the the glitziest and most glamorous cities in the NBA," Vardon wrote.
Vardon also stressed that the Knicks were not part of James' thought process during his free agency this past summer, and that only the Lakers, Cleveland Cavaliers, and Philadelphia 76ers seriously crossed his mind — although, that doesn't mean the Knicks wouldn't have been under consideration had they had cap room. Usually when James rips out the hearts of Knicks fans, it's because he dropped 50+ points at Madison Square Garden in a wind, so this is a new one.