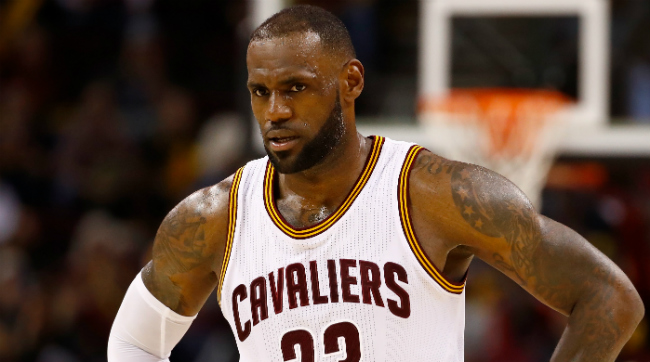 Kyrie Irving is suddenly on the trade market, but that's none of LeBron James' business. The Cleveland Cavaliers franchise and its place as the team to beat in the Eastern conference is suddenly in jeopardy after reports broke Friday that Irving asked for a trade from Cavaliers management.
Reports also leaked Friday that LeBron James will let the front office decide what to do with Irving's demands. An ESPN report filed by Brian Windhorst, who consistently has the inside scoop on LeBron's camp, says he's not going to meddle with team interests.

As the Cavs consider their options, sources said James has expressed to the team that he is focused on his offseason workout regimen and is planning to report to training camp with the intention of leading his teammates to a fourth consecutive Finals — no matter who those teammates are.

This follows the pattern James has taken with the Cavaliers in recent years. James is always kept aware of the franchise's moves and sometimes will reach out to potential new players to discuss the team but hasn't wanted to be a leader in those decisions.
Despite a recent history of letting the Cavs do what they may, it's still an interesting move for LeBron considering what's at stake. His own free agency is looming, and losing Irving is a huge blow to Cleveland's championship chances. A cynical look at this is that James is OK with losing Irving to another team, either because he didn't love playing with him or, more nefariously, he's willing to weaken the Cavaliers and lessen the blow when he heads elsewhere next summer.
At least they finally hired a GM to figure all this out. Good luck, buddy.
(Via ESPN)