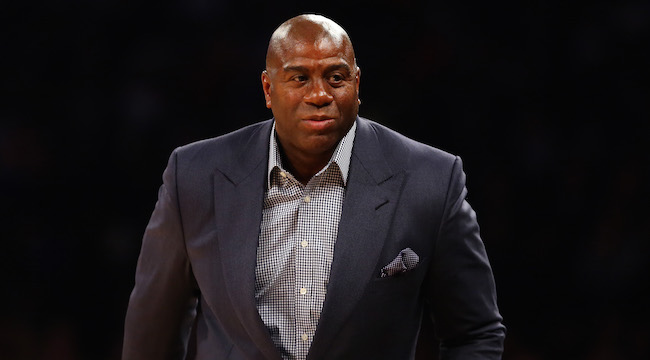 Magic Johnson took on an advisory role with the Lakers earlier in February and will report directly to Jeanie Buss and offer his thoughts on all things basketball and business. However, Johnson has plans on being something much more than a simple advisor.
Johnson spoke with USA Today on Friday and said that he has plans to climb the ladder with the Lakers and eventually be in a much more prominent role when asked what he hopes his role can be with the team.
"Working to call the shots, because it only works that way,'' Johnson said. "Right now I'm advising. I get that. But at the end of the day, then we all got to come together and somebody's got to say, 'I'm making the final call,' all right? And who's that going to be?

"So, we'll see what happens.''
Johnson also added that he doesn't know how long he'll be in the role he's in now, saying it could be a short time or a long time, and that will be decided at the end of the season. Based off of his comment about wanting to call the shots, the decision about how long he's with the Lakers could very well come down to how willing the Lakers brass is to allowing him to have a more prominent voice in the decision-making process.
For Lakers fans, this may be a bit alarming (but probably not surprising). Johnson said recently that he feels the Lakers are "one superstar away" from contending for championships again — which is a stance most would disagree with — and that he wouldn't have taken the job if he didn't think the team was close. If he's allowed to be have final say or at least a significant say in personnel decisions, it will be interesting to see if he would have the patience to keep and develop the young assets the Lakers have built.