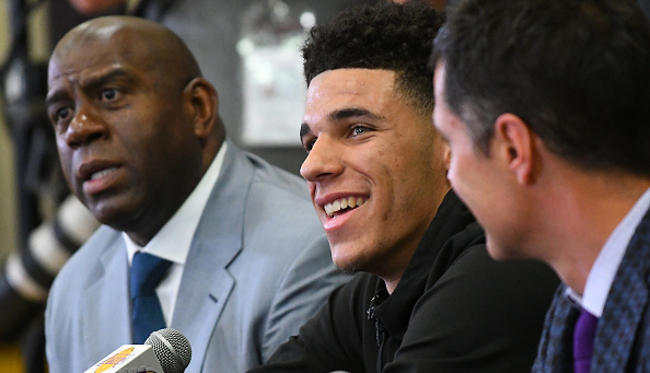 The Los Angeles Lakers are bracing for what could be a franchise-altering summer. They're in hot pursuit of both of the top two free agents who will hit the market on July 1 – LeBron James and Paul George – and they're also in the running to land a disgruntled Kawhi Leonard, who has said publicly he wants out of San Antonio and would prefer to be traded to his hometown team.
The front office has a lot of balls in the air at the moment, but that doesn't mean they've forgotten about the guys who are currently on the roster. The Lakers already boasts some immensely talented young players in Kyle Kuzma, Brandon Ingram, and Lonzo Ball, who are no doubt a big part of the allure for prospective stars who might be considering Los Angeles as a destination.
And as such, the Lakers still have a vested interest in developing that talent further. Which is why team president Magic Johnson took time out of his free agency quest to have a film session with Ball this week to identify some areas for improvement.
"We've had now three films sessions. Yesterday was the third one. It was his call, his choice. He called me wanting to sit down and watch film with me. I broke down his game. If you look at his body now, it's completely different than last season. Also too, he's been working on his ball handling, his floaters and his shot.
"You're going to see a different Lonzo Ball next season. I think a more aggressive Lonzo Ball. A Lonzo Ball who will also still make his teammates better, but he'll be looking for his shot because I need him to score."
It certainly sounds as if Magic is planning on Lonzo remaining with the Lakers this summer, although he's also clarified that all options will be on the table when it comes to his pursuit of the aforementioned marquee stars. Either way, it's a win-win for Lonzo, who is reaping the rewards of getting expert tutelage from the greatest point guard of all time.