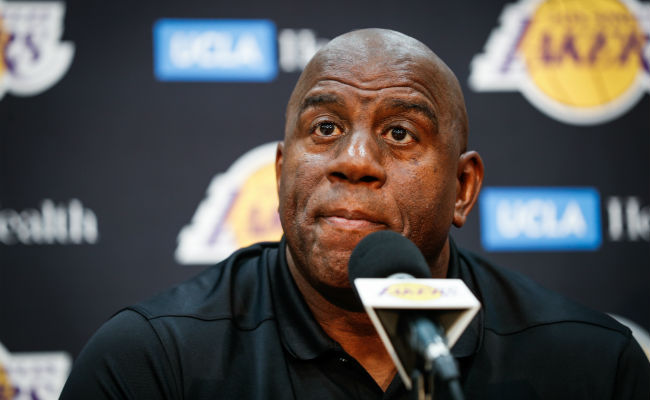 Magic Johnson's appearance on ESPN's First Take revealed a lot about the former Los Angeles Lakers executive's abrupt departure from one of the NBA's most important franchises. Most notably, he blamed Lakers GM Rob Pelinka for "backstabbing" and spreading rumors about him he claims weren't true.
Johnson unleashed from his duties as Lakers president means he can tweet as he pleases, but also that he is allowed to reveal some of his thoughts about the Lakers he would not want to share otherwise.
For example, he explained why D'Angelo Russell had to go: he was having trouble with "Shaggy P."

He also explained what happened when the Lakers tried to trade the Pelicans for Anthony Davis. Despite their failure to land Davis at the deadline, Johnson remains adamant about how he pursued a trade of the Pelicans star.
"I offered a lot of guys, but you have to do that for Anthony Davis," Johnson said."He's a special player."
Johnson said he told then-Pelicans general manager Dell Demps that they should keep the terms of their trade negotiations "in private" and that Demps was the one who leaked things to the media.
"Dell didn't do that," Johnson said. "So that's how it got out."
Johnson said he told Kyle Kuzma, Lonzo Ball and Brandon Ingram — his "young guys" — not to take a trade personally that their names came up, but he said for about a week, they did.
But Johnson pointed out that the guys mentioned in trade talks (when healthy) all played well after word got out.
"I wouldn't change anything," Johnson said. "That's my job: to make the Lakers better."