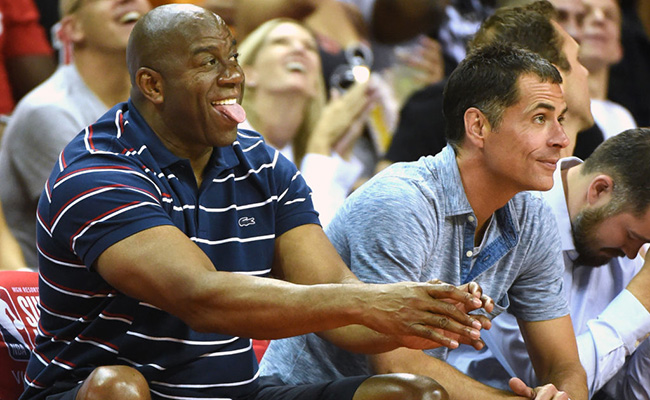 It's been just over a month since Magic Johnson abruptly stepped down as president of the Los Angeles Lakers, and a line he used in his impromptu press conference explaining why he'd be moving on has always stuck out.
"What I didn't like was the backstabbing and whispering," Johnson said at the time.
Many believed Johnson's comments were directed at Lakers general manager Rob Pelinka, and on Monday morning, Johnson confirmed as much during an appearance on ESPN's "First Take."

"I started hearing, 'Magic you're not working hard enough. Magic's not in the office.' So people around the Laker office was telling me Rob (Pelinka) was saying things," Johnson said. "I started getting calls from my friends outside of basketball, saying those things were now being said to them."
Johnson then revealed that when he took the job as Lakers president, multiple agents reached out to him to warn him about Pelinka, and that Pelinka had always been gunning for his job.
"When I took the job, you know how many agents called me and said 'You've got to watch out for him.'? And I said, well, I've got to give the guy a fair chance," Johnson said. "I wasn't having fun coming to work anymore. Especially when I have to work beside (Rob), knowing that (he) wants my position."
The Lakers recently announced they wouldn't be hiring anyone to replace Johnson, instead allowing Pelinka, who used to report directly to Johnson, to step in and report directly to ownership. The Lakers are set to introduce new head coach Frank Vogel on Monday.