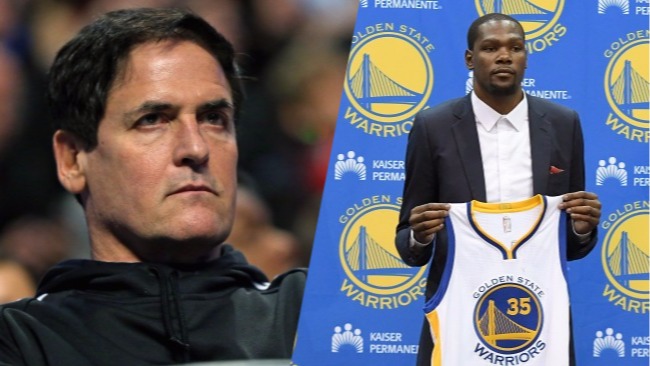 Kevin Durant's decision to leave Oklahoma City to strengthen an already dominant roster with the Warriors in Golden State upset a lot of people, for whatever reason. Maybe it was because they felt Durant was disloyal to the Thunder by joining the conference rival that had just beaten them in the playoffs, or maybe it was just because such a move further threatens parity in the league.
Either way, Dallas Mavericks owner Mark Cuban thinks Durant't decision to sign with the Warriors is actually a good one for the league. In Cuban's opinion, the league needs a team everyone can hate.
"They become the villain," Cuban told ESPN. "Just like when LeBron went to Miami, I loved that there was a villain. They become the villain. I'm fine with that. Everybody's going to root for them to lose."
Although I do agree with Cuban's point that it's fun to come together in rooting against a single squad, I'm willing to bet that he probably wishes that villainous super team was located outside of the Conference in which his own team plays. It's fun to hate those teams, but it's not as much fun to watch them wipe the floor with your own team, and that's exactly what this Warriors team is going to do to Dirk Nowitzki and company.