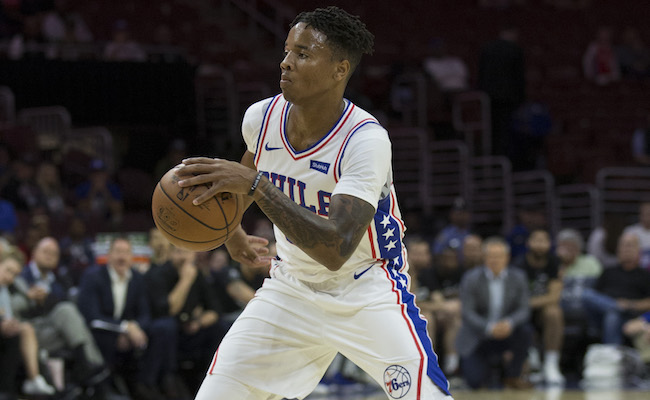 Former No. 1 overall pick Markelle Fultz didn't get off to the best start during his rookie season, with well-chronicled injury issues leading to a bizarre shooting conundrum. However, the Philadelphia 76ers guard is displaying signs of life during the preseason and, at the outset, head coach Brett Brown indicates that he plans to utilize Fultz as a member of the team's starting lineup.
However, that doesn't mean that Fultz will be in a full-time starter's role and, during Philadelphia's preseason trip to China, Brown shed some light on what could become an interesting situation. In short, it appears if Fultz will be a starter in the first half but come off the bench after halftime.
"Part of my responsibility is to be able to put these guys in environments with different combinations and try to figure that out as quickly as I'm able,"Brown said, via Tim MacMahon of ESPN. "I believe that Markelle is at his best with the ball, and so when you watch how I substitute and determine patterns, when you bring him off the bench in the second half you're able to get him like four or five more minutes as a point guard. I believe it's something that we'll continue to look at. Again, it was done for that reason."
While this is hardly unprecedented, it is certainly an off-the-radar choice. The Sixers do have fit issues to consider, particularly if Fultz and fellow No. 1 pick Ben Simmons fail to develop as jump shooters before or during the 2018-19 season, and that would be part of the impetus for a move such as this.
However, Fultz could also force Philadelphia's hand if he continues to showcase the top-tier talent the franchise saw in him before the draft and this could be a short-lived experiment. It absolutely helps to have a full-fledged starting caliber option in J.J. Redick to insert in place of Fultz at the beginning of the third quarter but the mere presence of a plan in place to deploy Fultz this way is interesting. It's often been said it doesn't matter as much who starts as who finishes the games, and we'll have to see whether Fultz finds his way onto the Sixers crunch time lineup this season.