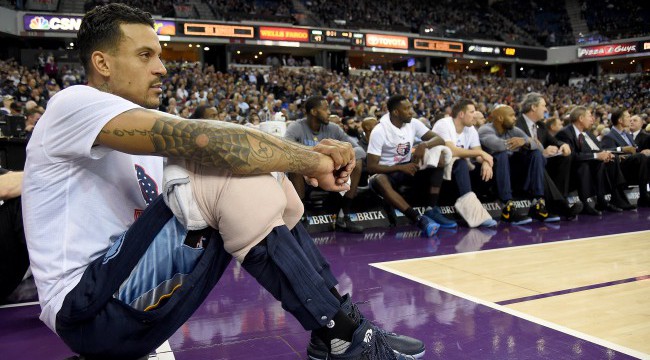 Matt Barnes has spent a lifetime filing grievances, but on this particular day, the National Basketball Players Association (NBPA) filed a grievance on Barnes' behalf to rescind his two game suspension for his altercation with Derek Fisher. Barnes recently expressed his opinions on the events of that October evening and how they affected his life.
It was an unfortunate altercation that has now cost Barnes two game checks. Barnes has been through the appeals process numerous times in his career, so he knows better than to expect to get his money back.
"I appreciate the support I've got from not only my peers throughout the NBA but NFL & from the entertainment world," Barnes told ESPN's Ramona Shelburne. "It means a lot that the NBAPA has filed an appeal on my behalf, but I won't hold my breath. I've never had so much as a tech rescinded, I highly doubt I'll be reimbursed a dime of that suspension money!"
Barnes' grievance would only be for financial restitution since he already served his two game suspension. The NBPA, headed by Michele Roberts, does a great job fighting for all its players, but this will be a hard battle to win. Barnes' altercation with Fisher was well documented and the NBA has officially closed their investigation; the New York Knicks' coach was not disciplined.
Barnes' case is a long shot, but closed mouths don't get fed.
(ESPN)