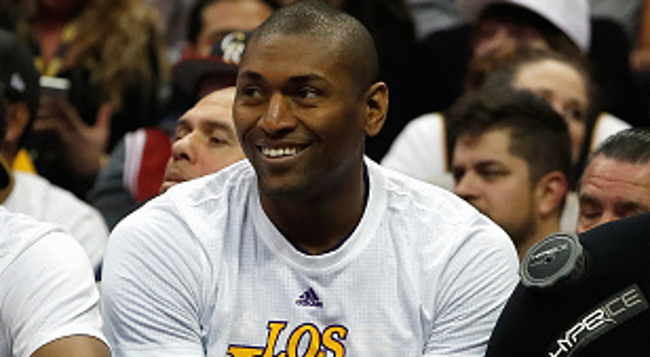 Metta World Peace is one of the most mercurial and enigmatic personalities the league has ever seen. Right after the Malice at the Palace in 2004, then-Ron Artest went on television to announce that he was dropping a rap album during his suspension.
He's been spitting rhymes ever since, on subjects ranging from his own mental health issues to the plight of Afghani women. Apparently, he's been back in the lab because last month he released an album's worth of material called Where We At via iTunes.
Looking at the track-list, there's one song title in particular that jumps out at you. World Peace's love for fine cognac has been well-documented over the years. During his Indiana days, a hapless reporter who was sent to interview him wrote that the Pacers All-Star had literally hundreds of empty Hennessy bottles glued to the walls of his mansion.
He later said publicly that he used to run across the street to the liquor store at halftime so he could get a buzz on, which is a riotous claim that is now immortalized in song. Unfortunately, that song doesn't elaborate much on the topic as it appears to just consist of the phrase "Hennessy at Halftime" repeated ad nauseam for about a minute-and-a-half. But who are we to question the artistic process?
(h/t CBS Sports)