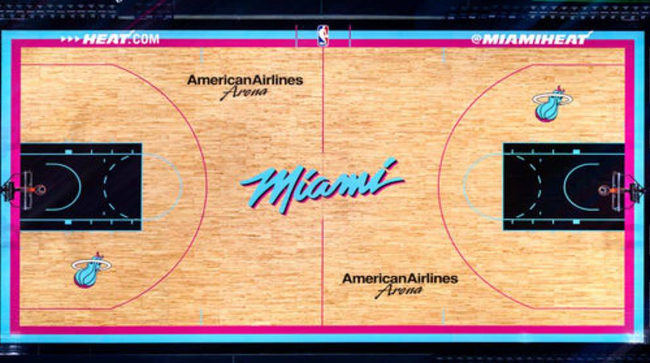 The NBA has come up with some truly remarkable ideas for alternate jerseys the past few years. Putting nicknames on the backs of uniforms was a short-lived but glorious concept, and the City edition jerseys that pay homage in some way to the team's local history have resulted in some memorable looks as well.
But the Miami Heat are the unanimous winners when it comes to the best alternate jersey idea in NBA history. Last season, they debuted the ultra-neon 80s-inspired Miami Vice uniforms that were a mega hit among fans, and they've brought that look back this season with a few minor color tweaks that make them even better this time around.
Fortunately for us, they didn't stop there. This season, they'll be hosting "Vice Nights" at American Airlines arena with all sorts of merchandise available for fans. They're kicking things off with a Midnight Madness-style event this Thursday, during which they'll also unveil their glorious new Vice-themed court.
The Heat will play their first game on the "Vice Nights" court and debut their new jerseys during their home game against the Indiana Pacers on Friday night. In all, the team will play 14 games on this court.
The team has also set up a website for their "Vice Nights" campaign where fans can find out more. The Vice jerseys sold out quickly last season, but Nike and the NBA are reportedly prepared for sales to soar and have plenty of uniforms in stock this time around.