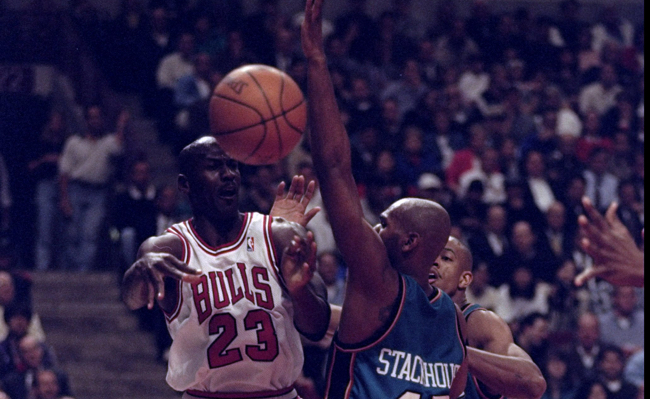 This might be the first we've ever heard of this, which is impressive because we thought we'd heard them all. But there's a long history of stories cataloguing the various times Michael Jordan was talking junk and messing with whatever poor soul was guarding him. Now there's a new entry, and this one involves music.
Former NBA player Roshown McLeod — who played from 1998-2001 with the Hawks and a brief stint with Jerry Stackhouse in Philly — was on CBS Radio's Brown and Scoop podcast and got to talking about His Airness — specifically, Michael's penchant for singing while he was roasting guys on the court:
"I just remember stories of Jordan singing to guys when he was playing," McLeod said. "His number one song was 'Giving You The Best That I Got.' I remember him singing that to Jerry Stackhouse one day and just putting on a show. It was like he had a concert going on in his own head.
Here's the full interview.
McLeod added that MJ "gave it to you every time" and "had an answer for everything that came out of anyone's mouth."
This falls right in line with what we already know about Jordan. He's a sociopath, someone unwilling, or unable, to concede at any competition no matter how trivial it might seem. Singing was just one of many maneuvers he busted out to get in an opponent's head on a basketball court. The only difference now, is we know MJ is a fan of late '80s soul and gospel.