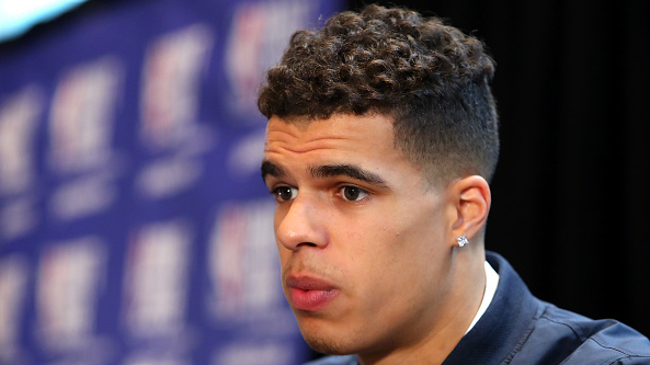 Michael Porter Jr. was a bit of a wild card at the NBA Draft earlier this summer. The Missouri standout was injured much of the last year and fell to the Denver Nuggets in the lottery.
Porter Jr. says he's pain free and hopes to be ready for the start of the regular season. But one thing he also had to settle was a minor social media beef between he and fellow draft pick Luka Doncic.
Porter Jr. appeared to like a post on Instagram that called the Dallas Mavericks prospect overrated, which certainly turned some heads in the sleepy summer months of the NBA offseason. Porter Jr. spoke to reporters at the NBA's annual rookie photo shoot on Saturday and gave up update on his injury as well as the beef between he and Doncic which he said is nonexistent.

According to ESPN, Porter Jr. said he was looking at a post about Rookie of the Year odds and liked a comment on the post. Once he realized what happened, though, he immediately reached out to Doncic and apologized.
"So what's crazy is that blew up," Porter said. "Believe it or not, I'm scrolling through [a post about] the Rookie of the Year odds and I accidentally like a comment. This is the EuroLeague MVP and I got nothing but respect for him. I was like, 'Man, I didn't want to come off like that.'

"I reached out to [Doncic], told him it was 100 percent accident and I told him, 'I can't wait to see what you do in the league.' I wasn't worried about what fans thought, but I wanted to let him know instantly. It was 100 percent accident."
According to the report, Doncic was standing right next to Porter Jr. when he gave his account of what happened, so it seems like if there were any discrepancies he could have cleared them up. But it's good that he got in touch with Doncic to clear things up instead of letting the incident linger.