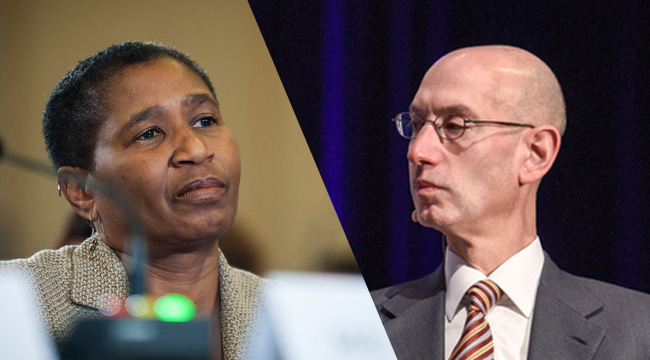 The NBA's summer has been a bit nutty. The one big story that everyone knows, Kevin Durant blowing up the league's competitive balance by going to the Golden State Warriors, is the result of a host of smaller, more nuanced stories that most people don't follow.
What these micro-lessons in economics and industry politics amount to is this: the league has a ton of new money, and a lot of it is going to players who are increasingly aware of their options. After the salary cap, which has been rising almost inexorably for years, was projected to take a dip next summer, though, many have started to fear that another lockout will come when the players realize they're perhaps getting a short end of the income stick again.
Among persistent optimists about the state of workflow in the league, however, are commissioner Adam Silver and the executive director of the Players Association, Michele Roberts. In an interview with the Boston Globe, Roberts expressed that she doesn't think we're heading towards a lockout.
"I've heard Adam proclaim his optimism," Roberts recently said about negotiations surrounding the soon-expiring collective bargaining agreement. "I've proclaimed mine, so I would like to sooner rather than later be able to have a press conference where we both stand together and announce together that we have a deal and there will be no work stoppage. There will be no lockout. Having said that, I gotta be ready for anything. But I am optimistic."
We're going to cross our fingers in the hope that Roberts and Silver are right about no more big lulls in pro basketball land. While anything can happen, it's a good sign when the heads of the two organizations that are negotiating are so optimistic that a lockout will be avoided.
(via Boston Globe)