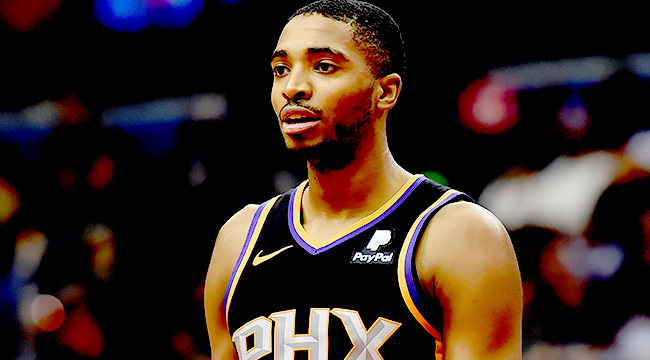 Mikal Bridges was put on earth to play the wing in today's NBA. At 6'7 with a 7'2 wingspan, he has the length and athleticism that teams covet for defenders on the perimeter. His buttery stroke was a sight to behold at Villanova, as he improved from deep every year for his hometown school. It also helps that, from the time he was a child, Bridges was obsessed with the game.
Bridges was like every kid growing up, trying his hands at football — literally, he was a wide receiver when he'd play — baseball, soccer, and just about anything else. At the end of the day, though, he'd find himself on the outdoor courts playing ball.
"Always outside," Bridges told Dime when asked about what he was like as a kid. "Me and my friends, we'd just go to the park and just be outside, play basketball literally all day. And I remember we would always go to Wawa and get food and then get snacks and just jugs of drinks, because we knew we're we'd be outside all day. Ride our bikes there and ride out and just stay outside till the night and then come back."
Bridges is Philly through and through, from the fact that he grew up in the greater-Philadelphia area, to his decorated high school career at Great Valley High School in the suburb of Malvern, to his eventual college decision to attend Villanova. Still, despite that all that — particularly that last thing — Bridges wasn't a devout Wildcat growing up.
Don't get it twisted, the team was still a constant presence in his life. Growing up, his best friends were "Nova heavy," with flags at their houses and games on their television. His high school was 20 minutes away from the school, and when Jay Wright offered in early June of 2013 — telling the soon-to-be high school junior and four-star prospect that he saw potential, a good work ethic, and a coachability that makes for the consummate teammate — Bridges knew right away that he wanted to be a Wildcat.
He took one last visit, a trip to Penn State on June 23. Bridges returned home, and two days later, he announced his college decision.


Bridges had no idea a redshirt was coming. His freshman year at Villanova involved him playing exactly zero basketball, which led to him getting "down." For someone who loves the game of basketball, being told you can't play it competitively can be awfully tough, and despite the fact that his roommate, current Wildcats standout Phil Booth, would help him take his mind off of things, it was something that weighed on him.
But like most things in life that ask us to take a step back, sacrifice the present, and think in the long-term, it paid off for Bridges in a big way. Beyond the fact that it let him contribute for two NCAA Championship-winning teams, doing this let Bridges get physically and mentally tougher, something he says he desperately needed.
"I got pushed a lot my freshman year, just mentally from my coaches, just trying to make me mentally tough, so they would get on me a lot," Bridges recalls. "And I think I was lifting a lot, so I was getting stronger in the weight room, knew how to workout in the weight room and stuff like that. I think that was an amazing year."
The big thing with Bridges, though, is how his growth as a basketball player was linear. Every year, Bridges found a way to get better, from a solid contributor off the bench as a redshirt freshman, to a productive starter as a redshirt sophomore, to a legitimate star and third-team All-American as a redshirt junior. In the era of the one-and-done, Bridges was a player who cut his teeth and continuously found ways to improve.
In his first year on the floor, Bridges averaged 6.4 points in 20.3 minutes per game. That jumped to 9.8 points in 29.8 minutes in year two and 17.7 points in 32.1 minutes in year three. The offensive skill that made him such a fascinating NBA prospect, his shooting from behind the arc, jumped every year, too, from 29.9 percent, to 39.3 percent, to 43.5 percent.
"I always worked on everything," Bridges says of his collegiate offseasons. "I think the biggest thing was just make sure my jump shot was good, because once you start playing off your jump shot, it opens up everything else, so make sure you just get a lot of reps of shooting. After my last year, just more playmaking, and coach gave me more of a green light."
It paid off in a national title and Bridges skyrocketing up NBA Draft boards by the time his final season culminated in a national title, even if he was exhausted by the time it ended. He recalls wanting to go to bed and sleep immediately after celebrating, and that he went through the team's national championship parade completely drained.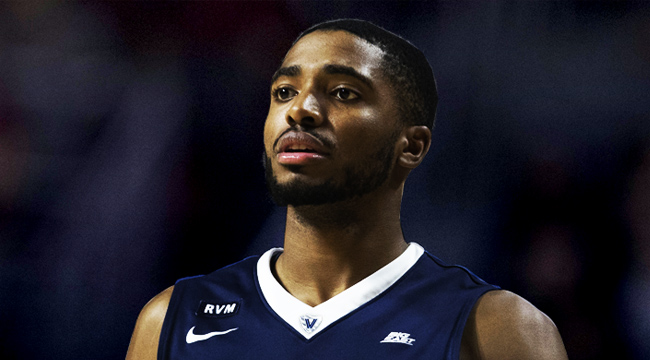 He didn't make up his mind right away, but going out on top and Wright telling him to make the jump made his decision to forgo his final year of eligibility and head to the NBA easier. Three other Villanova players — Jalen Brunson, Donte DiVincenzo, and Omari Spellman — decided to go, too, with Bridges saying he thinks they all decided independent of one another.
All year long, Bridges getting drafted by the Sixers and continuing to play basketball in Philadelphia seemed like a foregone conclusion, and for a moment, it was.
Philly had a hole on its roster for a 3-and-D wing, and the fit could not have been more perfect, both in terms of what he brought on the court and the marketing opportunities that came from him staying in the most familiar of settings. Bridges tried to ignore all the chatter, but when the Philly guy whose mom worked for Sixers' ownership group fills the perceived biggest need of his hometown team, well, someone was destined to fill him in.
"I didn't really read [mock drafts] but a lot of my friends told me about it, they always telling me this and that," Bridges recalls about the process leading up to the Draft.
As Adam Silver walked up to the stage, it seemed like a storybook beginning. ESPN's Rece Davis even mentioned that Bridges — seated at a table with, among others, his mother, Tyneeha Rivers, and Wright — was "grinning as if he knows something."
Lo and behold, the stars aligned, Bridges was there for the taking, and the Sixers pounced.
"With the 10th pick in the 2018 NBA Draft," NBA commissioner Adam Silver said, "the Philadelphia 76ers select Mikal Bridges from Villanova University."
Immediately after Silver read Bridges' name, the Sixers were praised, with most people repeating the talking points or copy-and-pasting the pre-written analysis they had ready to roll for days in advance. In our live Draft grades, we gave them an A, calling him a "perfect fit" and saying "He doesn't have the upside of other players on the board, but the Sixers have potential stars already, and they need players who can fill in gaps around them. That's exactly where Bridges thrives."


Of course, if you click on that link and scroll down to Philadelphia, you'll notice Bridges' name isn't there. That's because 20 or so minutes after he was taken, the Sixers pulled a fast one on just about everyone. Bridges was sent to the Suns in exchange for the rights to Texas Tech swingman Zhaire Smith and an unprotected 2021 first-round pick that originally belonged to Miami.
Wright told the press he thought Bridges was as "equipped" to handle this as anyone, while his mother was excited that the opportunity presented itself. As for Bridges, while he was stoked about the opportunity to play basketball no matter where he went, there was one thing that confused him: He never worked out for the Suns during the draft process.
"If [the Sixers] traded me to any team I worked out for it would've made sense, because I worked out for them, but I never talked to the Suns," Bridges recalls. "I didn't work out for them, so I was like, 'the Suns?' I never talked to them, but like, I'm in a good position."
The good news for Bridges is that his game could fit on any of the 30 teams in the league. Like most institutions, the NBA goes through pendulum shifts that define specific eras. The current moment is defined by the three-point line — the two best attributes that a player can possess right now are the ability to hit shots from deep and stop opposing players from accomplishing this goal. Bridges showed at Villanova that he possesses the ability to do both of these things in spades.
He's also blessed with the skill of knowing exactly what he is as a basketball player, something that he says he learned as a Wildcat, the simple message of do what you know how to do and "just go out there and play." His goal, as his career goes along, is to win championships, and Bridges is willing to do whatever is asked of him to make sure he gets to that point.
"It makes me look stupid out there if you do something you don't do," Bridges says. "You make yourself look worse than you are, I stick to what I do and what I'm comfortable with."
So far, he's managed to do this in the NBA. Bridges' workload has increased with each month that he's suited up in Phoenix, as he started every game in the month of December and has seen his minutes, points, rebounds, assists, steals, and blocks per game increase. The Suns have been better with him on the court, per NBA.com, and he's gotten better in both of his perceived strongest areas with more playing time. Bridges is connecting on 35 percent of his threes, and he's been a pest on the defensive end, leading all rookies in steals per game and steals per 48 minutes.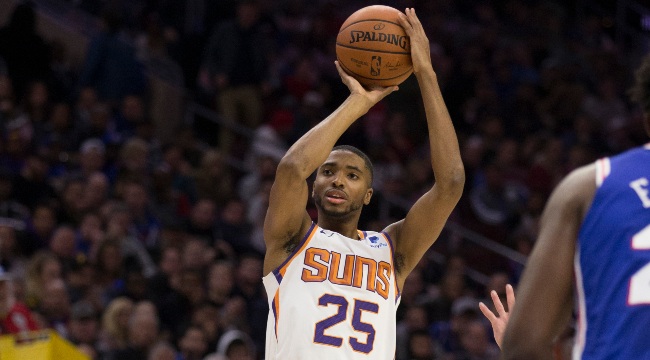 Still, he is a rookie, so there are ways for him to improve. Suns coach Igor Kokoskov told our Martin Rickman after Phoenix fell to the Los Angeles Lakers in early December that "everything's new to him" and that he sees "a lot of good stuff and a lot of things that he's got to change" in the rookie wing. In the eyes of teammate Josh Jackson, who went through his own growing pains as a rookie a year ago, Bridges just needs to keep his foot on the gas.
"One thing I'm trying to work on with Mikal is just telling him to stay aggressive," Jackson told Dime at Staples. "He can get a bit timid, but he was a lottery pick for a reason. It's something I struggled with a bit last year, finding my shot and trusting that, but it'll come for him."
Time will tell if this happens, but so far, the early returns are promising. And even if he struggles, Bridges is willing and able to do the work to get better, because he never wants to be someone who can't find ways to improve. He'd see this happen when he was in college, and now that he's in Phoenix, the same principle applies.
"I'm at 'Nova, and I see every year, you just get better and you kind of take it for granted sometimes, because you think every year, you're done, and you work out so much, you're supposed to get better," Bridges says. "But then you see some teams, some kids who just don't get better you're like, how do you not? You should get better each year."
His chance to improve year-by-year will come, as the future is bright for the young Suns standout. For now, Bridges is taking advantage of the opportunities he receives, the next of which comes on Wednesday night against none other than the Sixers in Phoenix. It'll mark the second time this season he's gone against Philadelphia, as he dropped 13 points on 5-for-7 shooting and a 3-for-5 mark from deep in a losing effort when the Suns traveled to the City of Brotherly Love in November. If he has his way, the Philly-bred rookie will once again let the team that drafted him and subsequently sent him out west know exactly what they're missing.