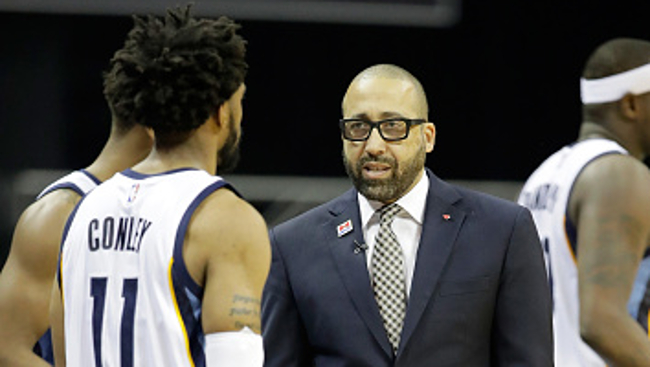 On Monday, the Memphis Grizzlies made the stunning announcement that head coach David Fizdale had been deposed amid an eight-game losing skid that was punctuated on Sunday with 98-88 stink-bomb against the lowly Brooklyn Nets.
Equally as shocking are the revelations that have filtered in about friction behind the scenes between Fizdale and All-Star center Marc Gasol. The talented Spaniard has never been known as a prima donna. On the contrary, he's built a reputation as that rarest of birds: A low-maintenance, team-first superstar that is every coach's dream.
Still, no player-coach relationship is immune to conflict, and things had reportedly been rocky between the two for some time. Those simmering tensions came to a boil after Fizdale benched Gasol for the entire fourth quarter against the Nets, with Gasol telling reporters afterward in no uncertain terms that he wasn't happy about that decision.
Grizzlies brass admitted that the disconnect between the two was a factor in Fizdale's dismissal, but they also pointed to the team's floundering play and little, if any, signs of progress toward righting the ship.
Several of Fizdale's former players jumped on Twitter to express their shock and disbelief, chief among them LeBron James and Dwyane Wade, who both played under Fizdale when he was an assistant with the Miami Heat. On Tuesday, Mike Conley joined the chorus.
Indeed, Conley (and Gasol) both had career years under Fizdale last season, who facilitated their individual growth on the offensive end in an effort to modernize a team whose grind-it-out ethos had become increasingly anachronistic.
Beyond the court, Fizdale had been outspoken about various social issues, particularly the controversy over Confederate monuments, many of which still loom around the Memphis area. He was also a valiant crusader for his players, blessing us with a post-game rant for the ages during the playoffs last season.
Regardless of where the Grizzlies go from here, Fizdale's firing was impulsive at best. At worst, it is an indictment on a management team that has built a reputation for these types of reactionary tactics, firing three coaches in the last four years. Granted, the Grizzlies were in the gutter, but it was more a byproduct of injuries to both star and ancillary players and a roster that isn't built to withstand those types of hits. Even given his tenuous relationship with Gasol, there were few, if any, signs pointing to irreconcilable differences.
But instead of trying to ride out the storm with their crew intact, the organization now faces the prospect of re-evaluating their entire future, and that could mean even more changes over the course of the season. As Conley illustrated here, at least one of the team's stars would have preferred if they just kept Fizdale around.