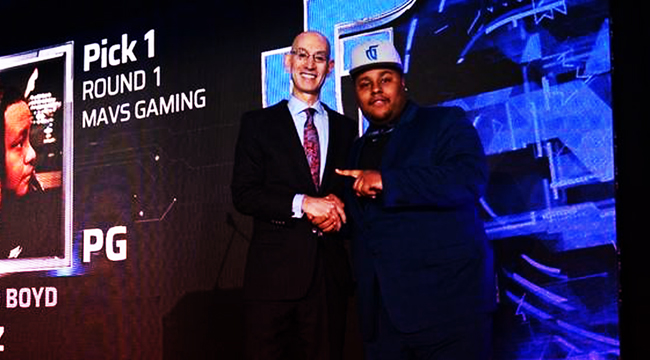 NEW YORK — There are plenty of us hapless rubes who, in an attempt to never miss NBA news, gets tweets by ESPN's Adrian Wojnarowski sent to our phones. On Wednesday afternoon, while sitting inside of The Hulu Theatre at Madison Square Garden for the inaugural NBA 2K League Draft, this tweet was sent out.
It was a tacit message of something the NBA has made it a point to stress: The NBA 2K League isn't a thing it is taking lightly. The new initiative is something the league views as important, so much so that commissioner Adam Silver made it a point to stress that this isn't just a gaming league that the NBA, with the help of NBA 2K publishers Take Two Interactive, is halfheartedly getting behind.
"From the NBA's standpoint, this is our fourth league," Silver said during his media availability before the draft. "Of course we have the NBA, the WNBA and the G League, and now this is the fourth league in our family, and that's exactly as we're treating it: one more professional league. And I think what's so exciting today in particular is that we'll be welcoming a new generation of athletes, of NBA players, into this fourth league."
That general philosophy — this is part of the NBA now — was on display during the draft. Beyond Wojnarowski breaking the news of the first pick shortly before it was announced by Silver — who announced the first pick of the afternoon before handing the reins over to the league's managing director, Brendan Donahue — ESPN's Darren Rovell was in attendance. There were news outlets, a desk behind which a group of analysts provided commentary, and a big ol' section for draftees to get interviewed. There was a stage, there was a podium on it, and after picks were announced, a graphic popped up with their name, team, and pic before fading to a screen that showed each pick up to that point.
It felt like, well, the NBA Draft, only one that was streamed on Twitch instead of aired on ESPN. This makes sense, because beyond the fact that the NBA views this as a chance to showcase a new league, Silver personally views those who participate in it as actual, honest-to-god athletes.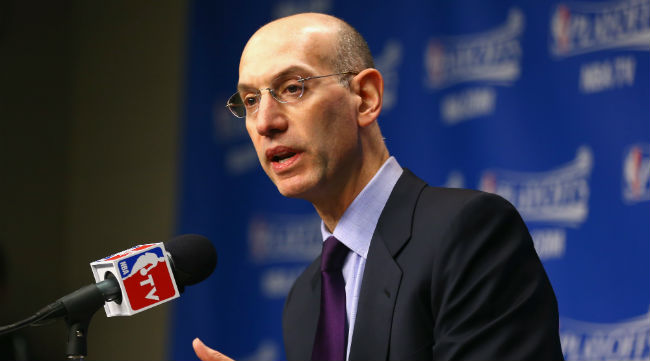 "I see them as athletes because I think it requires a unique combination of physical and mental skills to excel," Silver says. "And I think it's not that different than in the NBA where of course you have to have incredible physical skills, but our very best players bring a certain mental focus and prowess to the court, as well. It's a different set of physical skills here certainly, but just to watch these gamers/athletes compete, what I've read about the training regimens they go through, it's incredibly hard work."
This is a debate that exists around professional gaming, and it's one that Silver addressed head-on as the official stance of the league. The men (which as Silver indicated is something he wants to be remedied going forward with future drafts, as there are no women in the 2018 Draft) who were selected are professional athletes, ones who have the full support of the National Basketball Association.
For Dayne Downey, this is a big deal. Downey, a center in the league, went No. 7 overall to Portland's 2K squad, Blazer5 Gaming. He's also unique in that he's not just a game; Dowey suits up for Santa Monica College, a community college in his home state of California.
Downey has an appreciation for what it takes to be a basketball player. He also now, as a teenager, gets to say that his first job is as a professional gamer. And unsurprisingly, he was really happy with the commissioner's endorsement of him being an athlete.
"It's huge," Downey says. "The position of power that he's in, and to be able to openly say that is big for the community and for gamers and for people to understand that."
Downey plays forward for his school, but in the 2K League, he is a center. The draft consisted of six rounds, and 17 NBA teams have their own squads. Each team was required to take a point guard, a shooting guard, a small forward, a power forward, and a center. With their sixth pick, teams could take a player of any position.

Here are the 17 teams, listed in the order that they picked on Wednesday afternoon in a snake format:
1. Mavs Gaming
2. Celtics Crossover Gaming
3. Jazz Gaming
4. Kings Guard Gaming
5. Pistons GT
6. Blazer5 Gaming
7. Heat Check Gaming
8. Magic Gaming
9. Knicks Gaming
10. Bucks Gaming
11. Raptors Uprising GC
12. Wizards District Gaming
13. Pacers Gaming
14. 76ers GC
15. Grizz Gaming
16. Cavs Legion GC
17. Warriors Gaming Squad
Games will start in May and go through August, and instead of controlling NBA players, those competing will play as video game versions of themselves at their assigned positions. In the meantime, players like Downey and Artreyo Boyd, the aforementioned No. 1 overall pick and a point guard in the league whose gamertag is "Dimez," will get used to life and the playing habits of their teammates. with their teammates.
Boyd, who has been playing 2K games since NBA 2K10, got his gamertage due to the way he plays in real life. He's a natural passer, and now, he has the distinct honor of being the first pick in the history of the NBA 2K League and will head from his hometown of Cleveland to Dallas.
Like Downey, Boyd considers himself an athlete is excited to know that Silver views him as as such.
"It makes me feel great, because he's right," Boyd says. "The things we do aren't easy, we make it look easy just like somebody watching basketball would be like 'They make it look so easy.' You can't just go out there and do what they do, just like they can't come over here and do what we do on the sticks."

Boyd also had one heck of a day on Wednesday — he was the subject of a #WojBomb, and as the top pick, he was the only player to have their name read to the crowd by Silver, and after his pick, he got the chance to embrace the commissioner before being whisked away to hit up the media circuit. It is something that you expect the top pick in the NBA Draft to get, and was something that Boyd, who called the entire experience "surreal," was still processing a few hours after his name got called.
In a way, it was a surreal day for all involved. The NBA, whether it be through the proclamations of its commissioner or the fact that it was holding a highly-publicized draft on a Wednesday afternoon, sent a message that it is taking eSports seriously. And in the eyes of the de facto face of the league, this is the right approach to take.
"That's how it should be," Boyd says. "That's exactly how it should be and how we expect it to be. That's how we consider it, we're taking it as serious as possible, and we just want the same thing in return. We want everybody to respect it just like any other league because like I said, we're professionals."