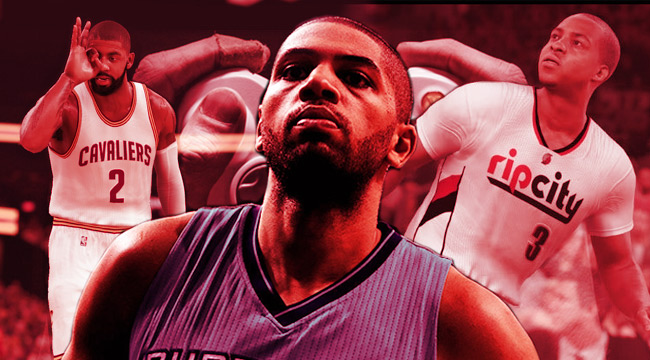 The pre-release hype for NBA 2K17 has reached levels we haven't seen since Michael Jordan graced the NBA 2K11 cover had everyone appropriately losing their minds over his inclusion in the game.
Heading into this years' release, we looked at 2K17's new stick-based control scheme, a plethora of trailers, some MyCareer news, the most underrated players in this years' game, and the greatest players in NBA 2K history. Now that the full pre-release player ratings have leaked, it's time to look at the worst player ratings in NBA 2K17.
What makes NBA 2K ratings particularly fun to scrutinize is how active NBA players are in the NBA 2K community. Everyone has an opinion, and that makes arguing over seemingly mundane numbers interesting. Plus, let's be honest, it gives us something to do while we wait for the NBA to return in late October.
I'll point you toward this exchange between Portland's C.J. McCollum, Boston's Isaiah Thomas, and the infamous @Ronnie2K, NBA 2K's lead in-house Twitter personality.
Do Isaiah Thomas, and the smorgasbord of other NBA players playfully whining on social media about their NBA 2K17 rating, have a point? Let's find out.
10) Isaiah Thomas (85)
Isaiah Thomas has been one of the most vocal NBA players to campaign for a higher NBA 2K17 rating, and he kind of has a point. There are 10 point guards rated 85 or higher, meaning Thomas falls in line with the bottom half of the top-10 points guards in the NBA, and that seems fair.
If you wanted to argue that Isaiah Thomas is closer to, say, the overall 89 rating of John Wall than he is to 81 of Rajon Rondo, and thus should have a higher overall rating, I can agree with that. Thomas' 85 rating ties him with fellow point guards Mike Conley, Eric Bledsoe, and Kemba Walker. I like all three players, but would personally value Thomas and Conley higher than the often-injured Eric Bledsoe, and the good-but-slightly-less-good Kemba Walker.
By his own admission, Thomas thinks he should be rated 'at least' 88 overall, and while nit-picky, I think he has a point. A few of these point guards (I'll get to you later, Kyrie Irving!) probably have a point.
9) C.J. McCollum (83)
Ironically enough, despite his disinterest in arguing about it, C.J. McCollum has a pretty compelling case for a higher overall rating. McCollum's numbers from last season speak for themselves, particularly considering the fact that he put them up for a team that, by most accounts, grossly overachieved all season. McCollum was awesome for an entire campaign with a team that desperately needed his production! He couldn't have an off night, and to Portland's delight, he rarely did.
It's kind of trendy to be 'down' on DeMar DeRozan in 2016, and in the interest of not piling on a very good NBA player, I'll just say this – I don't know that the gap between C.J. McCollum and DeMar DeRozan is all that big, but NBA 2K rated DeRozan at 87, and McCollum at 83. McCollum also comes in with a lower rating than Dwight Howard, Kemba Walker, Dirk Nowitzki, Eric Bledsoe, and Pau Gasol. I don't know about that.
8) Serge Ibaka (79)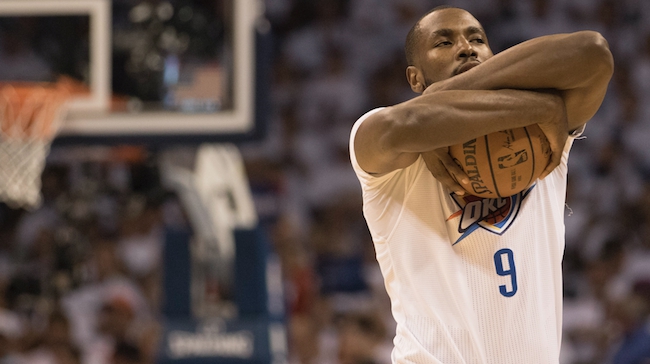 Serge Ibaka's 79 overall rating is reflective of the awkward season he had with the Oklahoma City Thunder last year, but I'm just not buying his regression. I won't argue that he didn't struggle to find a consistent position in Billy Donovan's new Thunder offense, but at just 26, I don't think he actually got worse as a player. His usage percentage was the lowest it had been since 2011-12, marginally lower, yes, but it is still reflective of the theoretical 'back seat' he took while Kevin Durant and Russell Westbrook ran the offensive show.
For comparison's sake, he's rated below Steven Adams, and he's tied with Enes Kanter. I just don't agree with how the Thunder bigs were rated after last season. I love what Adams did for the Thunder in 2015-16, particularly in the playoffs, and he was a much better fit than Ibaka for what they were trying to do, but I think Ibaka is the best player out of that trio. The NBA 2K17 ratings do not reflect that.
7) Andrew Wiggins (82)
Andrew Wiggins didn't make the rough draft of this list, but having gone back and looked at the year he had in 2015-16, this does feel a bit low. He's not perfect. Ideally, you'd like your star wing players to hit from beyond the arc at a better clip than Wiggins has in his first two seasons, but his raw offensive numbers alone could probably get him into the '80s.
He also happens to possess elite-level athleticism and near-limitless defensive potential. I'm sure the Minnesota Timberwolves would like him to reach that level a bit quicker than he has been progressing, but there is so much here to like, with so much more room to grow, that Wiggins could certainly be a few ticks higher.
6) Giannis Antetokounmpo (83)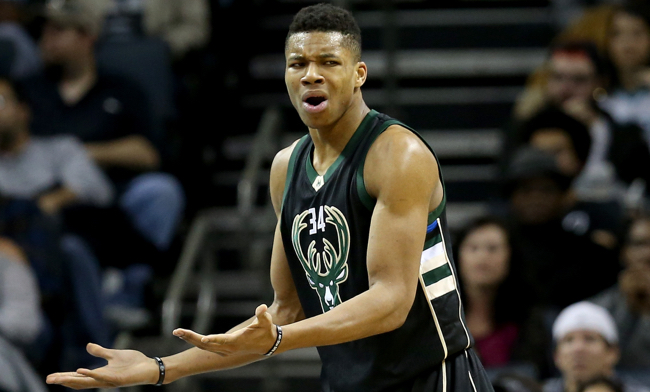 This is where I drop the often referenced post-All-Star break numbers Giannis Antetokounmpo put up after he essentially moved over to point guard full-time for Jason Kidd's crew.
For the last 28 games of the 2015-16 season, Giannis dropped 18.8 points, 8.6 rebounds, and 7.2 assists on more than 50 percent shooting from the field in 36.5 minutes per game. Yes, you can claim that's too small a sample size, but Giannis had a previous track record of success. It's not as if he burst onto the scene this season and started putting up major numbers because guys didn't know his talent. He's been "good" — relatively speaking, considering his age — for his entire career up to this point, but it felt like he made a genuine leap last season, and 83 overall for the type of production he was responsible for feels low.
5) Hassan Whiteside (85)
Hassan Whiteside was one of the more vocal NBA players confused about how the folks behind NBA 2K17 came up with his rating this year, and I can't believe I'm saying this, but Mr. Whiteside has a point.
Generally speaking, I think a lot of NBA fans, insiders, writers, game players, etc. are still struggling to accept how damn good Hassan Whiteside has been for the Miami Heat over the last two seasons. A part of me is still skeptical and I'm the one advocating for him to have a higher rating in NBA 2K17, in case there was any doubt about how confusing his development has been.
What I can't really argue against, however, are his numbers. First in the league in blocks per game, first in the league in block percentage, first in the league in defensive rating, third in the league in field goal percentage, third in the league in rebounds per game, and he did this playing less than 30 minutes a night.
But beyond the numbers, the best argument for Whiteside to be on a list like this is the fact that he has a lower rating heading into NBA 2K17 than he did at the tail end of NBA 2K16. I know the brains behind NBA 2K tweak their ratings algorithm every year, but you just can't have a player rate out worse than he did in the previous season coming off a career-defining year. In a vacuum, 85 overall is fine for Whiteside, but if he was 86 overall in 2K16, something went wrong somewhere.
4) Devin Booker (78)
Outside of Karl-Anthony Towns and possibly Kristaps Porzingis, no other rookie showed more NBA promise than Phoenix Suns guard Devin Booker. Here are a few players rated higher than Booker in NBA 2K17: Rajon Rondo, Wesley Matthews, D'Angelo Russell, Jrue Holiday, Rudy Gay, Tyreke Evans, Bradley Beal, and Marcin Gortat. I like a lot of those players, but how many of them actually had a better season than Devin Booker last year?
3) Kyrie Irving (89)
Before I try and convince you why Kyrie Irving should be rated higher, I should note that I understand why he isn't. Defense is literally half of a basketball game, Kyrie Irving has a bad reputation as a defender, and I have little doubt that his defensive rating in NBA 2K17 is what is keeping him at 89.
With that being said, plenty of seemingly 'one dimensional' players haven't been as punished for their defensive deficiencies as Kyrie has. James Harden, for example, strikes a similar balance of elite offensive talent with subpar defensive interest, and he still cracked the 90-rating barrier.
Kyrie Irving is just 24 and is already a three-time All-Star, and an NBA Champion coming off one of the most unpredictable NBA Finals comeback in NBA history. He should be at least a 90, and maybe higher.
2) Nicolas Batum (79)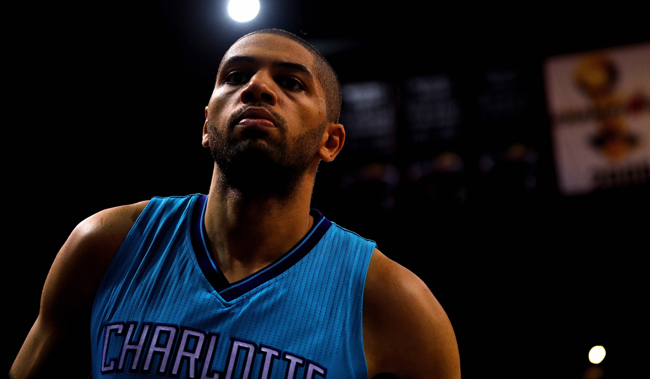 Like C.J. McCollum, Nicolas Batum was a key contributor to an overachieving playoff team, yet couldn't even crack 80. Believe it or not, Batum's rating actually went down from NBA 2K16, and considering his stellar 2015-16 season, that doesn't add up.
Batum is one of the few remaining jack-of-all-trade wing players in the NBA. He averaged 14.9 points, 5.8 assists, and 6.1 rebounds, while shooting 42.6 percent from the field and 34.8 from three in 35 minutes a night has to be worth more than a 79 overall rating. It's not as if Batum doesn't play both sides of the ball, either! You'll occasionally see a player rating come in that looks low because you aren't factoring in a players' defensive ability, but that isn't the case with Batum. At worst, he's an average NBA defender. But he's actually one of the better wing defenders in the entire NBA, with excellent size and athleticism for his position. I don't understand this one.
1) J.J. Redick (78)
I like to refer to J.J. Redick as the NBA's best role player. While there is some hyperbole mixed in to that statement, he does so many shooting guard things well, and rarely tries to do anything beyond his capabilities.
He's the best 3-point shooter in the NBA. Yes, you can add caveats in there such as 'Stephen Curry is better off the dribble, J.J. Redick is better spotting up' etc. That's all fine and good, but however way you slice it, it's hard to really argue when Redick shot the ball at a career-high 47.5 percent clip last season. Just for some context, Redick had a more efficient 3-point shooting season in 2015-16 than Ray Allen, or Reggie Miller, or Stephen Curry has ever had in their respective careers.
I'm not knocking those players, I'm just trying to highlight how special Redick is, and it would be one thing if that were the only NBA skill he possessed, but it isn't! I'm not going to pretend like he is the best defender in the world, but he is a responsible and gives all of his effort on that end, which is not inconsiderable. He can handle the ball. He can pass. His free throw shooting is elite.
All of that is to say this, his 78 overall rating is just too low, particularly when you consider the fact that he was rated 79 overall in 2K16. He had one of the best three-point shooting seasons in NBA history, and his rating dropped. Interesting.