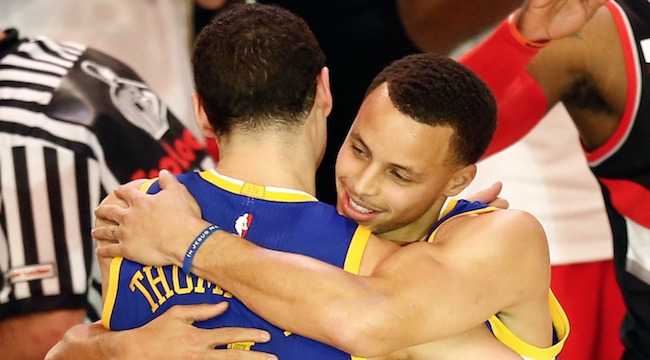 We wouldn't be surprised to see Steph Curry successfully defend his Three-Point Contest title on All-Star Saturday night, and would be just as non-plussed if Klay Thompson – who finished second in last year's shootout – beat his teammate this time around, too. The Golden State Warriors stars are definitely favored to win on February 13, basically, but they'll have to out-splash another loaded field to take home the trophy.
All-Star selections Kyle Lowry, James Harden, and Chris Bosh will participate in the Foot Locker Three-Point Contest next weekend, as will JJ Redick, the league's leader in three-point percentage, and normal stalwarts Curry and Thompson. Khris Middleton and 19-year-old Devin Booker – just the fourth rookie to ever compete in the shootout – round out the eight-man field.
Curry won last year's event in Brooklyn with a typically incendiary final round performance. He made 13 consecutive triples at one point en route to a crowning score of 27, comfortably beating fellow finalists Thompson and Kyrie Irving while putting Barclays Center in an absolute frenzy.
Will he be able to do the same at Air Canada Centre next Saturday? Let's just say we wouldn't feel comfortable betting against basketball's all-time single-season leader in made triples.
If Curry falters, though, one of these marksmen will surely pick up his slack to put on a show.