For the third consecutive year, a superstar player has issued a trade request after making it clear he would not re-sign with his current team.
Anthony Davis follows in the footsteps of Kawhi Leonard and Paul George, with both he and Leonard passing on the vaunted "supermax" extension for the opportunity to have a little more agency over their future. George, of course, decided to stick around in Oklahoma City after being dealt there in 2017 and the Raptors are hoping Leonard does the same this summer, although no one has a read on him. Davis, like both George and Leonard, is thought to prefer Los Angeles, with the help of agent Rich Paul guiding the way.
The idea seems simple: Go to a place where he can expand his personal brand while also trying to win titles with LeBron James. Then, at some point, James will bequeath the title of the best player in the world to Davis, giving him the chance to take over as the man in L.A. It remains to be seen if that will play out, but one thing that's clear is that banking on the supermax extension to save small market teams from losing their stars as they enter their prime hasn't panned out.
In theory, letting teams give their star players coming off of their rookie extension 35 percent of the cap, rather than the 30 percent other teams can offer, would give those teams a better chance at holding onto stars. However, what we've learned is there are plenty of players willing to sacrifice a bit of money for a better situation, because, as Nate Jones so eloquently put it, once you've already made nearly $200 million, the extra money may not matter if you would prefer to play somewhere else.

The elite of the elite, like Davis, George, and Leonard, are going to have opportunities to supplement their income off the court to make up for whatever they give up to go where they want. They're going to get regular max money from someone, and if they feel like a different situation can bring them either more on-court success or more off-court opportunities, that's more valuable than the salary difference.
Owners wanted to add the supermax into the CBA because it would, ideally, serve as a safety blanket for smaller franchises to keep star players in town without having to put in the long-term effort of investing in team-building. Now, there's no doubt that the margin for error for a small market franchise is significantly smaller than for those in big markets, but as we've seen over the years, even in large markets, it's all about competency, something that is amplified in the modern NBA.
This generation of basketball players has been told their whole lives that winning is the most important aspect of their legacy, because, for example, those six rings are the trump card for Michael Jordan in the GOAT debate. It's why LeBron went to Miami. It's why Kevin Durant went to Golden State. Championships have become the defining feature of an elite player's basketball legacy, and the thing that protects them against arguments that their incredible abilities have been only producing empty stats on a losing team. That pressure has led to a seismic shift in the way players now dictate their own destiny by teaming up and working together to bring home rings.
Teams now have to find ways to not just have some kind of sustained success of being good, but if they can't show at least the potential to win championships, then players will seek a place that can. In the case of Davis specifically, he has literally said "I'd take legacy over money."
The Pelicans haven't been able to do either, which compounds their issue. New Orleans has never made back-to-back playoff appearances with Davis, as the front office has been unable to build off of the team's most successful years to make the roster better around him. That's partially due to unfortunate circumstances like injury luck, but for the most part, it's on the front office simply not making the right signings and on the staff for not developing talent well enough around Davis. The disasters that were the Solomon Hill and Omer Asik deals, handcuffing the Pelicans' cap space for years, are the type of things that could eventually backfire and lead to Davis leaving, even more so than any concerns about market size.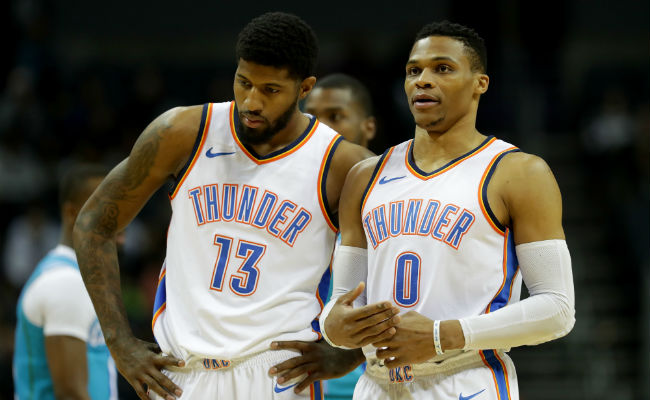 Every team makes its mistakes, but the bad signings can't outweigh the good ones as they have in New Orleans. Oklahoma City, for example, hasn't always done the right thing — early on they were downright cheap and shot themselves in the foot on occasion — but they've drafted as well as anyone in the NBA (which, admittedly, is partially luck), been more willing to spend in recent years, and they've established a culture that was strong enough to make Paul George and Russell Westbrook, a pair of SoCal boys, want to stay.
On the other side of the coin, for example, the Knicks are the most valuable NBA franchise playing in the league's most iconic arena, but have been a disaster for years, unable to recruit top free agents to come play in Madison Square Garden. They finally seem to be moving on the right path, and being New York allows for sentiment about the organization to change more quickly than other franchises, but we'll find out this summer if they've truly shown to be a worthy destination for someone like Durant — possibly with the help of a trade for Davis, ironically enough.
Sometimes teams, as in life, try their best and do a pretty good job, but it's not enough. The Pacers struggled with an era shift after the Hibbert-Stephenson-George-Hill-West years and stalled out, prompting George to seek greener pastures. The move has ended up working out for both parties, as Indiana's been invigorated by the influx of new, young talent and George is thriving in Oklahoma. The Spurs, the gold standard for small market squads, did something to sever the ties of trust between player and franchise, even if Leonard (and his camp) apparently had big city aspirations before that.
This isn't to say the supermax extension is something that can never work for a small market squad. Take the Milwaukee Bucks, who are going to offer Giannis Antetokounmpo anything he wants once he becomes eligible for a new deal. There's extra incentive for him to ink an extension prior to free agency, but it only works if the franchise has shown that player it will make the right moves and do the things necessary to win. Milwaukee took the right step with the Mike Budenholzer hire, but they'll have to keep proving it over the next two summers before they can get Antetokounmpo to sign on that dotted line. The good news for the Bucks is that they'll have a chance to do this right away, as Khris Middleton, a crucial piece to their puzzle, will almost certainly hit free agency this summer and is in line for a big payday.
New Orleans' success came in fits and starts, but it was never sustained and the cast of characters around Davis was ever-changing and never good enough year-to-year. There will always be a disadvantage to being a small market team, but the league has to understand there's no quick fix to make players want to stay in lesser situations. The only hope is to have a plan, execute it well, and hope the luck portions (like player health) fall on your side. If you don't at least do that, you stand no chance, no matter the market size.