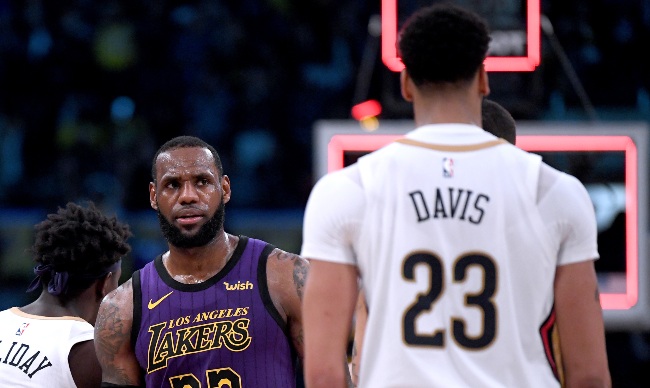 Friday night's game between the Los Angeles Lakers and New Orleans Pelicans at Staples Center featured a fascinating subplot, as so much chatter leading up to the game revolved around Anthony Davis potentially joining LeBron James in the future. It led to James talking about how he'd like for that to happen, while people around the NBA — including New Orleans coach Alvin Gentry — saying this is an example of tampering.
The game itself was rather entertaining, with the Lakers coming out on top, 112-104. But as is often the case in the NBA, what happened off the court was a much bigger deal than what happened on the hardwood.
According to Chris Haynes of Yahoo Sports, James and Davis met up after the game to get dinner in Los Angeles. There is no word on whether it was just the two of them or if this was part of a larger group. Haynes also spoke to Davis, who gave a quote that ostensibly confirmed a report from earlier in the day by Sam Amick of The Athletic about the role money will play in his free agency.

"I'd take legacy over money," Davis said. "I want to have a legacy. All my people that look up to me, the younger kids, I want them to know about AD's legacy. Championships, the things I do in the community, being a good teammate, playing hard. All that stuff matters the most to me. Don't get me wrong, money is amazing. But I think in that sense, money or legacy, I think my legacy will win that battle every time."
To Davis' credit, he also said "my job is about the Pelicans right now," but that first quote had to have set off some alarm bells in the Pelicans' front office. The supermax extension he could get from New Orleans, which would offer him one more year and more than $87 million more than any other team can offer, is supposed to be the team's main leg up on the competition, but Davis is now on record as saying he cares more about his legacy than that.
Oh, and if you're someone who puts stock into what players do on social media, here's Davis joining James to comment on a Kyle Kuzma Instagram post.

Perhaps it means nothing, or maybe it means everything, or one could argue it exists in a middle ground, one in which nothing and everything meet to create something. This is all very silly, but so is the NBA, and over the next few weeks and months, there may not be a bigger point of discussion than the future of the guy who very well could be the next person to hold the title of best player in the world.