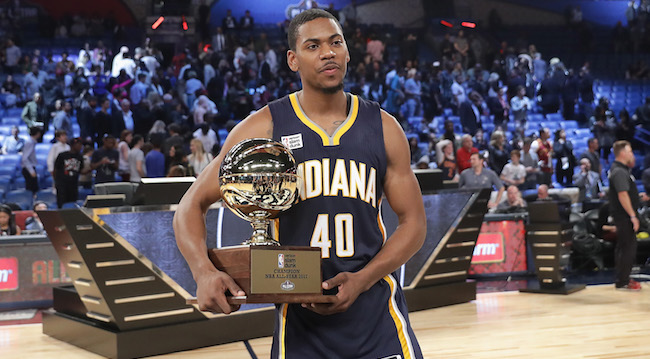 Glenn Robinson III won the 2017 NBA Dunk Contest, defeating Derrick Jones Jr. in the finals, but after two straight incredible and nearly flawless performances from Zach LaVine in back-to-back wins.
LaVine wasn't performing in this year's contest after deciding against it (and then suffering a season-ending ACL tear), so most expected Aaron Gordon to carry the contest this year, but he struggled with his first dunk involving a drone and didn't make the finals. DeAndre Jordan was also lacking in his first two dunks, meaning the finalists were the relative unknowns Jones Jr. and Robinson III.
Both of them had a pair of incredible dunks that earned perfect 50s, but also had some issues that we just weren't used to seeing from finalists after the last two years where we were spoiled. NBA players and legends reacted to the dunk contest right along with the fans on Saturday night, and the consensus was that it just wasn't that entertaining.

Spencer Dinwiddie even suggested letting high school sensation into the dunk contest next year, even though he'll be in his first year of college.
The NBA players clearly weren't feeling this year's dunk contest and I think fans would agree it was relatively lacking. That said, Robinson and Jones both had two fantastic dunks that, on their own, could stand up in any dunk contest. The problem was that the consistency simply wasn't there from any of the contestants to make for a truly great show.
Despite that consensus, there were plenty of players thrilled to see Robinson take home the trophy and offered him their congratulations.
https://www.instagram.com/p/BQrZnJGFoC-/