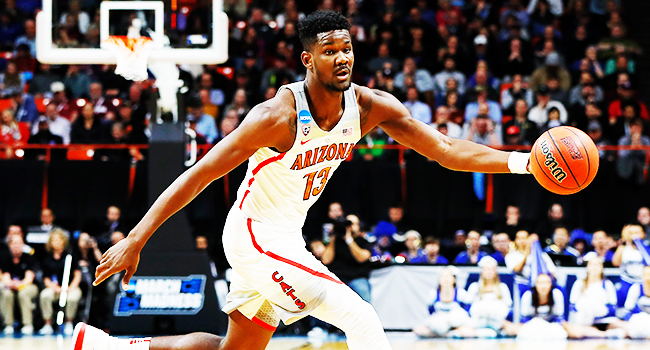 On Tuesday evening, the first 14 picks of the 2018 NBA Draft become officially set and, with whole basketball world watching, the Phoenix Suns emerged victorious with a prize of the No. 1 overall selection.
If nothing else, teams waiting for the ping-pong balls to tell their story now understand their fate and, by extension, can zero in on semi-realistic scenarios in the coming days. Not every team should have visions of Arizona's Deandre Ayton or Duke's Marvin Bagley III in the frontcourt, especially if that team is picking outside the top five picks.
With that in mind, it is time to unveil the first of several 2018 NBA Mock Drafts in advance of June 21. As of Tuesday evening, the Suns are officially on the clock.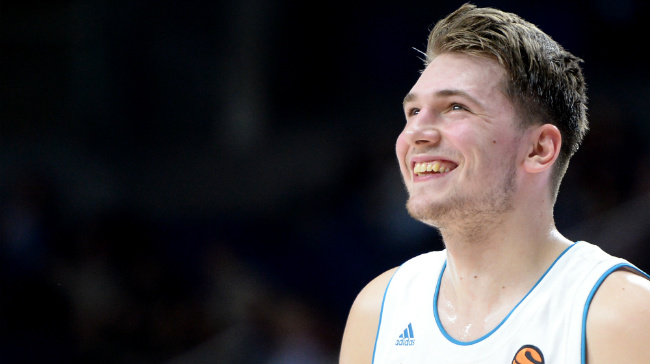 1. Phoenix Suns – Deandre Ayton (C, Arizona)
The Suns don't have to take Ayton, as Luka Doncic would be a perfectly acceptable choice in the No. 1 spot. In fact, Phoenix's new head coach has extensive ties to the Slovenian wing and this will be fascinating to watch play out over the next five weeks. Still, the Suns have a need at center, and the best center in the draft played his college ball about two hours away.
2. Sacramento Kings – Luka Doncic (SF/SG, Slovenia)
It makes perfect sense that the Kings would simply take the "other" player between Ayton and Doncic, depending on who Phoenix elects to snatch in the top spot. Sacramento doesn't always follow a blueprint, and it would be easy for the Kings to be seduced elsewhere, but the smart move at this juncture is to take Doncic.
3. Atlanta Hawks – Marvin Bagley III (C/PF, Duke)
This isn't a no-brainer, especially given potential concerns with a future pairing alongside John Collins. Bagley may be the best prospect available, though, and there are early indications that the Hawks value his potential. If everything went perfectly, the Hawks would suddenly be terrifying in the frontcourt.
4. Memphis Grizzlies – Jaren Jackson Jr. (C/PF, Michigan State)
This isn't ideal for Memphis given the continuing presence of Marc Gasol. However, Jackson is the best prospect available in my view and he is versatile enough to make it work in the short term while also taking the time to develop into the potentially devastating defensive force the Grizzlies would covet.
5. Dallas Mavericks – Mo Bamba (C, Texas)
Bamba is the best player available here, which makes this choice easy. Regardless, the Mavs likely wouldn't consider Trae Young or Collin Sexton after taking Dennis Smith Jr. a year ago and Dallas has long coveted a franchise center. Bamba might be that and his defensive ceiling is off-the-charts.


6. Orlando Magic – Trae Young (PG, Oklahoma)
Candidly, my guard is up on Young and I'm not convinced he's a top-six player in this class. The Magic need an infusion of talent, though, and point guard is definitely a position of need. That makes the partnership come together, but there is at least a chance that the front office isn't ready to take the plunge.
7. Chicago Bulls – Mikal Bridges (SF, Villanova)
Bridges is the oldest player widely expected to land in the lottery but he makes up for that with polish and a highly projectable skill set. Three-and-D wings are in high demand right now and, with Bridges' jump shot and defensive length and aptitude, he would be a snug fit on the wing for the Bulls. Oh, and Chicago really likes to draft upperclassmen from big-time college basketball programs.
8. Cleveland Cavaliers (via Brooklyn) – Wendell Carter Jr. (C, Duke)
Good luck trying to figure out what the Cavs will do here if they even make this pick in the first place. Carter may not be the most likely pick but he's the highest rated prospect on my personal board and, more than any pick outside of the top two, this will be a slot based almost entirely on intel around the league in the coming weeks. As always, everything revolves around LeBron.
9. New York Knicks – Collin Sexton (PG, Alabama)
Sexton is a divisive prospect in some circles, even if everyone agrees on his competitiveness and high floor. Can he make enough shots to really pop on the level of a lottery pick? We'll see, but the Knicks don't seem to believe that Frank Ntilikina will be their point guard of the future and Sexton makes sense. His toughness and competitive fire are two things that should appeal to new coach David Fizdale regardless.
10. Philadelphia 76ers (via LA Lakers) – Michael Porter Jr. (PF/SF, Missouri)
This might be five spots low for Porter and everything is based on the medicals between here and late June. His stint at Missouri was wholly underwhelming but, prior to that, many believed Porter could be the No. 1 overall pick. His talent, when paired with Simmons and Embiid, would be tremendous.


11. Charlotte Hornets – Shai Gilgeous-Alexander (PG/SG, Kentucky)
Yes, Kemba Walker is easily the best player on the Hornets' roster. Charlotte still can't afford to pass on the best player available here and, if the Hornets make it work to keep Walker long-term, Gilgeous-Alexander has the size to play alongside Walker. He's been a riser on draft boards since mid-season and there is a growing contingent that might even take Gilgeous-Alexander over the likes of Sexton at the lead guard spot.
12. Los Angeles Clippers (via Detroit) – Miles Bridges (PF/SF, Michigan State)
Bridges does a lot of things well, even if none of them represent an uber-elite trait. The total package is that of a future NBA starter, though, and that is worthy of a lottery investment as the best (and safest) pick available here.
13. Los Angeles Clippers – Robert Williams (C/PF, Texas A&M)
It wouldn't be crazy for the Clippers to take Bridges and Kevin Knox but there might be too many similarities there. As such, Williams would be a long-term replacement for DeAndre Jordan and he has the athleticism to actually stick as a potential starter at center in the league. There is huge value in that potential.
14. Denver Nuggets – Kevin Knox (SF/PF, Kentucky)
This is kind of a no-brainer for the Nuggets and they'd have to be thrilled with the way this mock falls. Knox would provide them with a young, versatile forward, which is one area of the roster that doesn't feel overly secure moving forward.
15. Washington Wizards – Keita Bates-Diop (PF/SF, Ohio State)
This might be high for Bates-Diop considering his relatively low upside but the Wizards need NBA-ready pieces right now, especially if they elect to keep their core together for one more run. Having a high floor and a low ceiling isn't a bad thing, even in the mid-first round.


16. Phoenix Suns (via Miami) – Zhaire Smith (SF, Texas Tech)
Josh Jackson and Zhaire Smith flying around on the wing together would be a lot of fun. Also, the Suns might need the defensive aptitude if Deandre Ayton struggles, at least initially, in rim protection.
17. Milwaukee Bucks – Lonnie Walker (SG, Miami)
Walker slipping this far would be at least slightly surprising but Milwaukee is the beneficiary. It was an inconsistent freshman season from Walker but his offensive tools are captivating. He could work well alongside other top-tier options, headlined by Giannis Antetokounmpo.
18. San Antonio Spurs – Troy Brown (SF/SG, Oregon)
If Danny Green sneaks away, the Spurs will need another wing. Even if he doesn't, Brown would be intriguing and the highest upside wing in this range given his defensive tools.
19. Atlanta Hawks (via Minnesota) – Dzanan Musa (SF, Bosnia-Herzegovenia)
Musa is the second-best international prospect in this class and his scoring potential would be appearling for the Hawks. There are other potential fits in this range and it feels safe to project Musa somewhere between 15 and 25.
20. Minnesota Timberwolves (via Oklahoma City) – Chandler Hutchison (SF, Boise State)
I'm a big fan of Hutchison and he could help the Wolves right away. He would bring much-needed floor-spacing to the equation and, more than anything, Tom Thibodeau would likely see a player that is ready to step in immediately. That matters when discussing a head coach that is also the principle decision maker.


21. Utah Jazz – Aaron Holiday (PG, UCLA)
There is at least some chance Holiday slides into the muck with the other veteran point guards in this class but, for now, he appears to be a slight cut above the rest. Utah won't need a backup point guard if they retain Dante Exum but, if they don't, Holiday provides a versatile, smart, polished player to pair with Donovan Mitchell and Ricky Rubio.
22. Chicago Bulls (via New Orleans) – Jontay Porter (C, Missouri)
Porter arrives with big-time pedigree and a highly polished offensive skill set. Pairing him with Lauri Markkanen, at least from an athletic standpoint, might be an adventure but the Bulls need another big for the future and the younger Porter brother seems to be rising late in the process.
23. Indiana Pacers – Khyri Thomas (SG, Creighton)
This is a popular mock pick and, even if it isn't a perfect fit, Thomas brings crazy length and defensive talent to the table. Indiana's roster is so difficult to track with all of their non-guaranteed contracts but Thomas is a jack-of-all-trades kind of player that makes it easy to build.
24. Portland Trail Blazers – Jacob Evans (SG/SF, Cincinnati)
Evans has been something of a late riser but his ascent makes complete sense. He is very smart, plays strong defense and can stretch the floor as a 3-and-D player. If he was a better athlete, he'd be a no-doubt pick in the top-20 but Evans feels pretty safe and the Blazers need a wing that can function right away.
25. Los Angeles Lakers (via Cleveland) – Mitchell Robinson (C, High School)
If you told me Robinson came off the board ten picks prior to this, I would believe you. He is a tremendous raw prospect but, of course, the issue is that he hasn't played competitive basketball in more than a year. The Lakers don't really have "the guy" at center just yet and Robinson is the best available talent, regardless of position.


26. Philadelphia 76ers – DeAnthony Melton (PG/SG, USC)
Melton has to prove he can make shots but he would be a very nice complement to what the Sixers already deploy given his defense, ball-handling and size in the backcourt. Philly has an embarrassment of riches from a talent perspective and they can afford to take a player like Melton here.
27. Boston Celtics – Anfernee Simons (SG, High School)
The Celtics can afford to swing for the fences and Simons is player that brings a ton of uncertainty. It seems likely that at least one team will fall in love and, even if it isn't Boston, he'll land in the latter part of the first round as a result of his untapped potential.
28. Golden State Warriors – Melvin Frazier (SF, Tulane)
Frazier is a terrifying defensive prospect, with a 7'2 wingspan and physicality to boot. If he can knock down threes at the NBA level, this will be a steal of a pick and, of course, he would fit perfectly into what Golden State has already built.
29. Brooklyn Nets (via Toronto) – Tyus Battle (SG/SF, Syracuse)
The Nets are in a weird spot here in that most of the best prospects available are pure backcourt guys and, well, Brooklyn doesn't really need that. It would be easy to argue "best player available" but, in Battle, they get a versatile prospect that could succeed when finally slotted into a more appropriate role than the one he played in college.
30. Atlanta Hawks (via Houston) – Shake Milton (SG/PG, SMU)
Milton would represent a heist for the Hawks with the final pick in the first round. He has legitimate point guard skills at 6'6 with a wingspan nearing 7'0 and Milton can convert shots while defending (and switching) on the other end. He's a perfect role player model and the Hawks could integrate him well with their current talent and a new head coach.