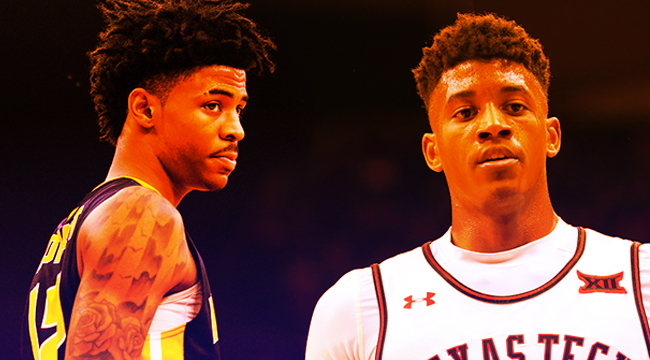 For a few weeks in March and April, college basketball takes center stage in the American sports world. The sport has lost some of its regular-season luster over the years but virtually everyone agrees that the NCAA Tournament is a fantastic sporting event and, at the very least, it captures an exceptionally broad fan base on an annual basis. Most of that interest stems from the splendor of a single-elimination tournament that produces buzzer-beaters and memorable moments, with the (very) easy task of filling out a bracket to monitor the action with a personal interest. For some, however, the NBA reigns supreme and college basketball is only observed through the prism of the next class of professionals.
There is, of course, nothing wrong with enjoying both products but, for the people that are NBA-focused more than anything else, March Madness can be an opportunity to take a glimpse at the upcoming group of potential draftees. 2019 is no different, with Zion Williamson headlining a (very) intriguing group of prospects. It has to be said that this year's group doesn't profile as an all-time class in terms of overall quality but, in the same breath, there are real divides in prospect evaluation and that can provide additional entertainment as scouts and fans argue the merits of young players over the next three months.
In this space, we'll take a pre-tournament dive into what a first round mock draft might resemble, knowing full well that things will change as the bright lights shine on a few players in the coming days. Let's roll.
*Note: Draft order using FiveThirtyEight projection as of March 19*

1. New York Knicks – Zion Williamson (F, Duke)
Williamson missed five full games (and most of a sixth) with the sprained knee he suffered during the already infamous shoe explosion against North Carolina. That certainly had an impact on Duke's performance on the court but, in terms of NBA Draft stock, nothing really changed. Williamson is a clear No. 1 in this class and, even with some questions about his translation to the league in a few key areas (shooting chief among them), it will stun everyone if he isn't the top pick in June.
2. Cleveland Cavaliers – R.J. Barrett (F/G, Duke)
In 34 pre-tournament games, Barrett averaged 22.9 points, 7.5 rebounds and 4.1 assists per game and he did so on a team that also features Williamson, Cameron Reddish and Tre Jones. There are all kinds of red flags with Barrett, from his lack of explosion to his sometimes maddening decision-making with the ball on his hands, but he's been obscenely productive. I'm not locked in to Barrett at No. 2 but, considering Cleveland's 2018 investment in Collin Sexton and the team's roster construction, Barrett is an on-brand choice.
3. Phoenix Suns – Ja Morant (G, Murray State)
Morant led his team to the NCAA Tournament and that is no small feat at Murray State. He did so while averaging utterly ridiculous numbers (24.6 points, 10.0 assists, 5.5 rebounds) but, more importantly, the uber-athletic guard established himself as a consensus top-five pick along the way. Phoenix's point guard situation isn't as dire as it was before Tyler Johnson arrived but the Suns still need a player next to Devin Booker and Morant also happens to be the best player available. It should be noted that defense would be an issue with that backcourt but, in Phoenix's position, this is the relatively easy choice.
4. Chicago Bulls – Cameron Reddish (F, Duke)
The Bulls are in kind of a weird spot. On one hand, the team has a four-player core of Zach LaVine, Lauri Markkanen, Wendell Carter and Otto Porter that seems relatively well-established. On the other, that isn't exactly a flawless group, particularly when it comes to detracting the opposition from scoring. With that in mind, Virginia's De'Andre Hunter could make sense here but, even with Reddish struggling mightly at times this year, his offensive upside is just higher than that of Hunter. The Bulls could also go with a point guard (Darius Garland, namely) but it seems a little bit high for that.
5. Atlanta Hawks – Jarrett Culver (G/F, Texas Tech)
Add the Hawks to the list of teams that could certainly use Hunter's services, as Atlanta currently boasts a young core that is shaky (to be kind) on the defensive end. Still, Culver is a (slightly) better overall prospect that happens to be younger and more talented on the offensive end. He could make himself some money with a breakout showing in March but, at this point, NBA scouts know that Culver has two-way appeal and he's established himself in a wide second tier of prospects.

6. Memphis Grizzlies – Darius Garland (G, Vanderbilt)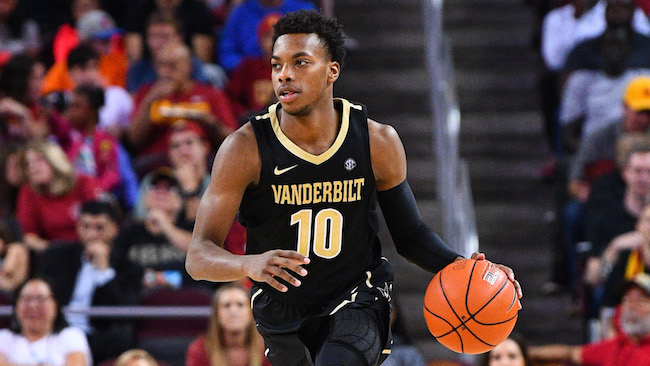 The Grizzlies should be in talent acquisition mode and that means "best player available" as a general rule. With that said, Memphis lands in the middle of a tier in this instance and, for my money, Garland is a better fit long-term with Jaren Jackson Jr. than De'Andre Hunter would be. Namely, the Grizzlies could use some offensive punch for the future and, if they choose to move on from Mike Conley (as they flirted with at the trade deadline), Garland would be an on-brand replacement given his local ties.
7. Atlanta Hawks (via Dallas) – De'Andre Hunter (F, Virginia)
As noted above, Hunter might be in play at No. 5 for the Hawks but it would be easier for Atlanta if he was still available here. In Culver, the Hawks would get a more intriguing offensive talent that also has crossover appeal. In Hunter, Travis Schlenk and company would acquire a player that would immediately become the team's best defensive prospect and, for good measure, he fits the team's ethos in being able to stretch the floor with solid shooting. The Hawks would be testing the "you can never have too many wings and forwards" corollary in adding two more but, if they felt maxed out in that area, a trade involving Taurean Prince would quickly solve that.
8. Washington Wizards – Nassir Little (F, North Carolina)
The hate has gone too far on Nassir Little. Is he having a picture-perfect freshman season in Chapel Hill? Absolutely not, but there are reasons (including the presence of upperclassmen who are legitimately effective at the college level) that he isn't playing all that much and the results aren't overly disastrous when he does play. I'm of the mind that Little shouldn't be in the top-five mix anymore but he's still a fantastic athlete with a 7'1 wingspan and all kinds of tools. I'll buy low.
9. New Orleans Pelicans – Romeo Langford (F/G, Indiana)
I could make an argument for the Pelicans to go elsewhere and it would be more than fair to express skepticism on Langford in a number of areas. He's not an effective shooter right now and, despite his strength, Langford isn't a big-time athlete either. Still, he's been effective and the Pelicans should probably be in "best player available" mode as their rebuild kicks into gear.
10. Los Angeles Lakers – Keldon Johnson (G/F, Kentucky)
At the moment, the Lakers do have some interesting perimeter pieces for the future, including Lonzo Ball, Kyle Kuzma, Brandon Ingram and Josh Hart. Why, then, would Los Angeles add another versatile, yet ceiling-limited wing? Well, Johnson is my top player remaining at this stage and… um… aren't the Lakers going to trade some (or all) of their young guys?

11. Charlotte Hornets – Jaxson Hayes (C, Texas)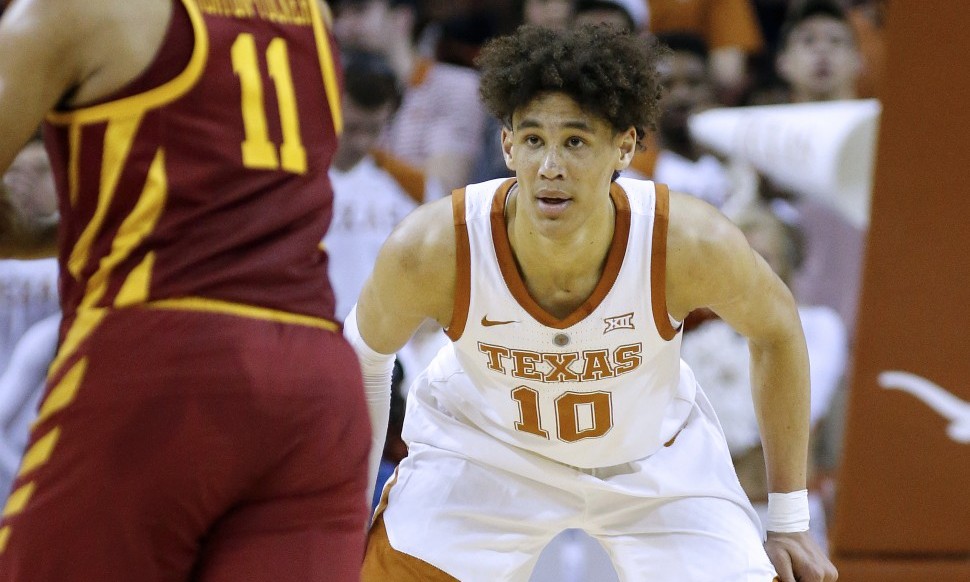 Cody Zeller is signed through 2021 and I get that. He's a useful player. That shouldn't stop the Hornets from looking for an upgrade, however, and Hayes projects to be the top pure center in this class.
12. Miami Heat – Rui Hachimura (F, Gonzaga)
Scouts are higher on Hachimura than the internet is, even if I fall in the latter category. For me, he isn't the best player on his own college team but he's been efficient and productive this season for the Zags. Can he defend? Well, that is a pivotal question and one that engineers the aforementioned scouting split.
13. Minnesota Timberwolves – Brandon Clarke (F/C, Gonzaga)
If Brandon Clarke was two years younger, he'd be a top-five pick. That shouldn't even be controversial. He's the best defensive prospect in this class and, to put it bluntly, I could argue that Clarke has been the second-best player in college basketball this season. He'll be 23 years old by the time his rookie year starts but the Wolves, pairing his defense with Karl-Anthony Towns, are a perfect landing spot.
14. Boston Celtics (via Sacramento) – P.J. Washington (F, Kentucky)
The Celtics have three picks to work with and that is worth keeping in mind throughout the process. Boston does have a vacancy if Marcus Morris hits the free agent market, though, and Washington combines safety with some legitimate upside. He's been monstrous for Kentucky this season.
15. Orlando Magic – Coby White (G, North Carolina)
The Magic took the plunge with Markelle Fultz and, for the record, I still believe in the former No. 1 pick as much as someone can with his uncertainty. With that out of the way, getting White at No. 15 would be a tremendous pick-up for Orlando. He's been better than expected at North Carolina and White has good size (6'5) to pair with an evolving and potent offensive skill set. In a perfect world, the Magic could even play White and Fultz together if Markelle rights the ship.

16. Brooklyn Nets – Sekou Doumbouya (F, Limoges)
There isn't really a consensus on Doumbouya yet, either within the outside scouting community or NBA front offices. Everyone agrees he is talented, though, and the Nets can afford to take a big swing with another first round pick to fall back on. If nothing else, they may not want two more rookies on the roster for next season and Doumbouya is a draft-and-stash candidate.
17. Detroit Pistons – Nickeil Alexander-Walker (G, Virginia Tech)
The Pistons fall into a nice value pick here. There have been positive signs from Luke Kennard in recent days but, aside from that, the future of Detroit's backcourt is very mixed. Alexander-Walker probably isn't a star, but he has great length and versatility with the ability to make plays on both ends. It won't be incredibly sexy but it works.
18. Boston Celtics (via LA Clippers) – Bol Bol (C, Oregon)
To be candid, I have no idea where Bol Bol will be drafted. He has top-five upside when you consider his offensive talent and length. He also has bust potential when remembering how bad he was defensively (yes, I promise he was bad despite the blocked shots) during his time at Oregon and the injury issues he is already facing. Boston can afford to fire away given their situation and that paves the way for the choice.
19. San Antonio Spurs – Talen Horton-Tucker (G/F, Iowa State)
There are a few players with big-time evaluation splits in 2019 and Horton-Tucker is definitely one of them. My personal board has the Iowa State standout as more of a late first round type but, in contrast, there are people I trust that see Horton-Tucker as a lottery pick. I'll split the difference for now, as he really understands how to play the game and brings a legitimate 7'1 wingspan to the table at a (very) young age. There are questions but he does feel Spurs-y.
20. Indiana Pacers – KZ Okpala (F, Stanford)
Some of the helium with Okpala subsided when he didn't have the best close to the season but he still fits the modern NBA quite well. At 6'9, he has good ball skills and he can really shoot it. That's a good place to start, even if you don't believe in the defensive upside.

21. Oklahoma City Thunder – Kevin Porter (G, USC)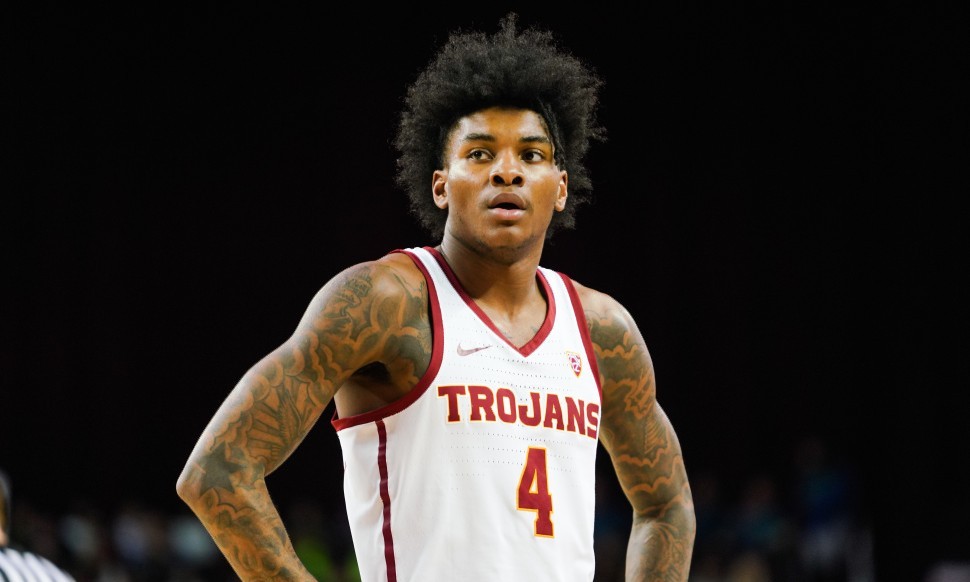 Another guy that has scouts flummoxed. Porter's upside is through the roof and perhaps higher than any other player available at this juncture. On the flip side, he was kind of a mess at USC after an early explosion and, defensively, it's an adventure at best. You're betting on his shooting and finishing and the Thunder could use a player with his theoretical talents.
22. Utah Jazz – Grant Williams (F, Tennessee)
This might be a tad high for Williams but, if he makes sense anywhere in this range, it's with the Jazz. At some point, Utah probably needs another power forward and Williams, while not the sexiest prospect in the world, fits the ethos that the Jazz deploy on a nightly basis. He just does a lot of things well and, if he can make threes, the value is there, too.
23. Portland Trail Blazers – Bruno Fernando (C, Maryland)
I had trouble finding a landing spot for Fernando. He's been very, very good this season at Maryland and is deserving of a first round pick. At the same time, there is a bit of weirdness when trying to incorporate his skill set and the Blazers don't "need" a center. I do think that they could take one (and this team hasn't exactly shied away from adding big bodies), especially if they have fallen out of love with Zach Collins to an extent.
24. Boston Celtics – Tre Jones (G, Duke)
It almost goes without saying that the Celtics aren't likely to make all three of their projected first round picks and, if they did, Danny Ainge would probably use one to stash a player in Europe. However, Boston might have an opening at backup point guard if Terry Rozier walks and Tre Jones strikes me as a Celtics-type player with his hard-nosed defense and winning pedigree. If he can fix his jump shot, this is a good value.
25. Philadelphia 76ers – Tyler Herro (G, Kentucky)
The Sixers unearthed great value in selecting Landry Shamet last year, but they sold high in the deal involving Tobias Harris. Now, they get another space-producing wing threat in Herro. He has some defensive questions with his lack of size and explosion, but Herro can really score and, more importantly, shoot.

26. Cleveland Cavaliers (via Houston) – Jontay Porter (C, Missouri)
This is a pure value pick and there is no reason that Porter should even be available at this point. Honestly, I'm a bit higher on Porter than the consensus but, until we get the medicals and see him back on the floor, it's tough to project. At the very least, he is a wildly intriguing offensive prospect.
27. Brooklyn Nets (via Denver) – Jalen McDaniels (F, San Diego State)
It wouldn't stun me if McDaniels slid into the second round, particularly with a civil matter involving his off-court behavior still ongoing. He is a very intriguing combo forward prospect, though, and the Nets should be seeking someone in that mold, even with an earlier pick spent on Doumbouya.
28. San Antonio Spurs (via Toronto) – Cameron Johnson (F, North Carolina)
Like Brandon Clarke earlier, Johnson is going to fall because of his age. He's already 23 years old after transferring from Pittsburgh but, in the past, the Spurs haven't cared much about that (i.e. Derrick White) and he'd be a great fit there. Johnson's shooting is going to translate anywhere he goes and San Antonio can scheme around his limitations.
29. Golden State Warriors – Matisse Thybulle (F, Washington)
It would be almost unfair to deploy Thybulle's defensive wonder alongside Golden State's offensive talent. Thybulle is that good on the defensive end but the questions about his offense are more than fair. He's also 22 years old. If it was up to me, though, Thybulle would be a top-25 player in the class.
30. Milwaukee Bucks – Daniel Gafford (C, Arkansas)
Gafford is officially in the draft after making that decision earlier this week and, in retrospect, he would've been a more coveted prospect in 2018. That doesn't mean the shine is completely gone, though, and he has the potential to be a quality backup center with upside beyond that.