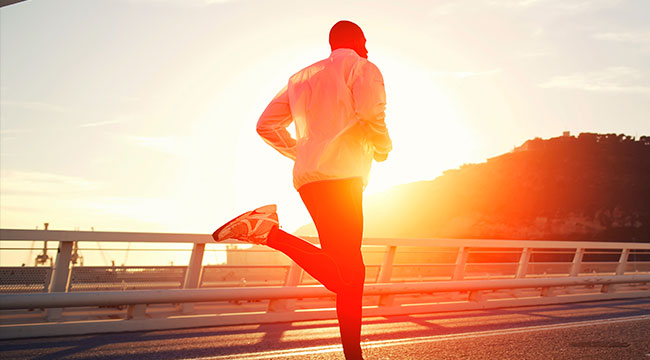 With the help of social media, we often see our favorite athletes traveling the world, working out and spending time with their respective families. Whether it's at the pool or by the beach, NBA players appear to enjoy their leisure time during the offseason, but they're also focusing on cross training in different environments, and on different surfaces.
Working out muscles they don't always use and getting out of their normal routine has become a regular occurrence for many players nowadays. With the modern NBA game being played at such a high pace and every player almost considered usable at any and every position, we've seen an uptick in extracurricular workouts.
"A lot of players enjoy challenging themselves outside of their sport and their comfort zones," Mike Atkinson, head of strength and conditioning with New York's D-League affiliate, the Westchester Knicks told DIME. "Training in the offseason should have a purpose but also be fun and safe while engaging the athlete and driving towards an ultimate off season goal."
Take C.J. McCollum, who's using sand workouts to strengthen his lower body and legs by changing direction at high force with limited risk. McCollum, who earned the NBA's most improved player award just a few seasons ago, knows that he has to overcome his lack of size by doing anything he can to get an edge. Sand workouts are just one of the ways he's gotten better year over year.
"It's good for the joints and has low impact," McCollum told DIME. "It changes up the routine and allows me to cross train in a different setting. It's also fun to do in a group and it's good for conditioning."
Benefits of a Sand Workout
1. The ability to change directions at high force with limited risk.
2. Improve lower leg and foot strength.
3. Less impact on the body created on sand than the court which provides a safe alternative to hardwood training.
4. When used for conditioning and endurance it can provide extra density and resistance which can increase intensity of the training session.
Tips for a Great Sand Workout
1. Find a safe environment and scout ahead of time.
2. Go barefoot, let the foot get the benefits of having to react and stabilize on the sand.
3. Create drills that force athletes to react, compete and change direction fast
(Video courtesy of Class Act Sports)
"On the court is important for the foot to react off a hard surface and generate force as efficiently as possible so overtraining in sand can actually decrease speed over time," Atkinson told DIME. "Less is more when it comes to speed and power work on sand due to the amount of ground exposure and force absorption of the sand which can counter gains when over done."
McCollum is just one of many NBA players that are using what was once, an out of the box solution. Along with sand and beach workouts, water workouts are another growing offseason workout.
The New York Knicks' Kyle O'Quinn and Denver Nuggets Wilson Chandler are two of the players who utilized water workouts to improve their strength, mobility and stability this offseason.
Some of the benefits of water workouts include decreased load and impact on the athlete in training, improvement of cardiovascular endurance and improvement of overall strength, mobility, stability.
Tips for a Water Workout:
1. Find a safe and comfortable environment (preferably lifeguard on duty)
2. Identify the training session goal: strength, endurance, power, recovery, etc.
3. Water level at ideally four to five feet depending on height of athlete.
4. Warm up! Start your training session very similarly to the way you would start a training session on dry land.
"Try adding sport specific movements with fundamental swimming to gain an extra level of conditioning without over stressing the body." Atkinson told DIME.
Utilizing basketball moves in the pool and strengthening areas that are needed to build muscle due to the resistance the water creates is extremely beneficial to players.
(Wilson Chandler working out in the pool, video courtesy of Chris Brickley)
In the water, here's a sample workout and what it looks like.
Warm Up
Finish in 5-6 minutes (minimum)
Flutter Kicks (Pushing Against the Wall) x 30 seconds
High Knees x 30 Seconds (multi direction)
Lateral Shuffle x 30 Seconds
Flutter Kicks (Pushing Against Wall) x 30 seconds
Water Claps x 30 Seconds
FreeStyle Swim x 30 Seconds
A Skips x 30 Seconds (multi direction)
FreeStyle Swim x 30 Seconds
Conditioning: 3×3 with 1:1 Work: Rest
Freestyle Swim x 1 lap
Power Walk x 1 lap
Kickboard Swim or freestyle x 1 lap
Backwards Walk x 1 lap
Power Endurance: 2 Sets – Work: Rest 1 minute between each lap and 2 minutes between sets
Lay-ups x 1 lap
Power Jumps x 6 laps
Single Leg Bounds x 1 lap
Euro Step Layups x 1 lap
1 Lap = 25 meters
Cool down in the a cold plunge or cold shower to start the recovery process.
As the NBA season begins, if you're tempted to start thinking about these players having summers off, that's not entirely true. While they may be at a beach or on a vacation, they're still utilizing these newer, unique ways of working out and staying in shape.