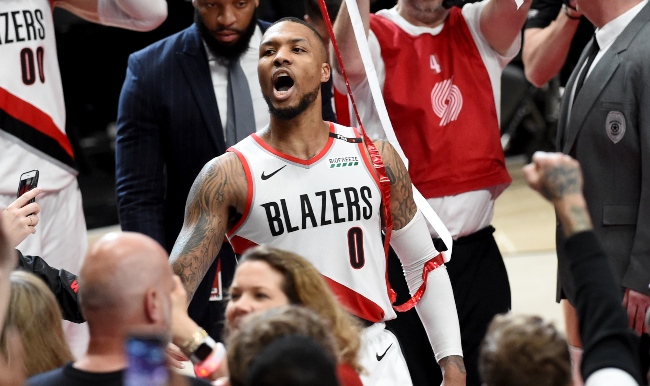 Damian Lillard is capable of doing some amazing stuff, but even by the lofty standard he has set, what he did on Tuesday night was absolutely bonkers. Lillard had the game of his life in Game 5 against the Oklahoma City Thunder, capping off a 50-point outburst with a long distance bomb to punch the Portland Trail Blazers' ticket to the second round.
You have probably seen it already, but because you cannot watch something this cool enough, here it is again.
Lillard launching a triple from 37 feet out and burying it in the eye of, potentially, the league's Defensive Player of the Year is some storybook stuff. The Trail Blazers' official Twitter account summed it up best.

I had the exact same reaction, just not on Twitter. Speaking of everyone's favorite social media platform that restricts you to 280 characters when you want to say something, upon Lillard's series winner, a myriad of NBA players made it a point to celebrate the All-Star guard for hitting one of the best shots you'll see in your life.
The praise came from all over the NBA universe, as no one could believe that Lillard did something this cold.
Not even Enes Kanter, who took the floor with Lillard on Tuesday, could believe what he just saw up close and personal.

In an especially cool moment, Allen Iverson took a second to show some love.
Amid all that praise, Grizzlies forward Chandler Parsons took an approach that was a little more empathetic to Oklahoma City getting knocked out in such heartbreaking fashion.
Still, this was all about Lillard. Calling game is always incredible, but doing it to win a playoff series and establishing yourself as the baddest man on the planet is a level that only Damian Lillard knows.