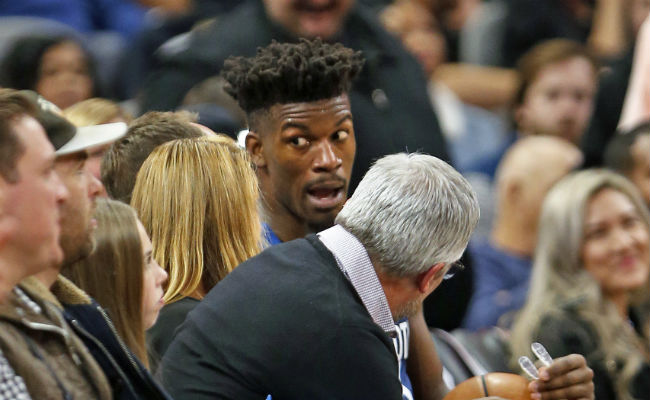 The NBA is back, but it's clear that not everyone is firing on all cylinders. Or, perhaps more accurately, they don't want to do that just yet. After a Friday night slate that featured an excellent nationally televised game in each conference, things took a bit of a step back for the following day's slate of games.
On Saturday afternoon, the news that various stars will sit for their night games started trickling out. Boston will sit Gordon Hayward, Toronto announced Kawhi Leonard will not play, and after leading Minnesota to a win over the Cleveland Cavaliers on Friday night, Jimmy Butler got the day off.
All of these make sense: Hayward is still coming off a serious leg injury that kept him off the floor all last season. Kawhi looked great on Friday night in a win over the Boston Celtics but also missed much of the last year with an injury that sparked his falling out in San Antonio. Butler did not play in preseason and had more than 30 minutes in each of the first two games of the season.
Being careful makes sense: It's the first week of the season and all three players have unique situations with their injuries and/or attempts to get traded. Butler, namely, is an asset that the Timberwolves want to protect with regard to trade value. Leonard and Hayward, meanwhile, have looked good but are going to need time to get it all back, and there's no need to rush anything.
The NBA changed its schedule rules last year in an effort to appease players who want fewer back-to-back and three games in four nights situations, and the NBA is serious about making sure players aren't getting rested if they aren't truly injured. In this day and age, television schedules mean just as much as player safety in the eyes of the league, and so "general soreness" isn't going to be enough. That means we're going to see a lot of team announcements about players getting rest for some very specific reasons, even if — as it was in Butler's case — that "precautionary rest" will have to be a good enough excuse.
There's nothing wrong with all this. In fact, it's a lot more straightforward than it's been in the past. But these announcements are an evolution of basketball that's come from two specific changes the NBA has made in the last year, and are an example of the savvy ways in which teams will still do what's best for their players above everything else.