Burner Accounts
Athletes can't win when it comes to stuff like this. If they clap back at critics and online trolls, they come across as defensive, insecure, short-fused. Hence the burner account phenomenon, which so far has had nothing but calamitous results.
Getting caught using a fake social media handle to engage in petty arguments with random fans only compounds the humiliation by a factor of 10. For Kevin Durant, it reaffirmed the already growing perception that he's far too sensitive. For Bryan Colangelo, it cost him his job. It may have also irreparably tarnished his family legacy.
Few things are more emblematic of our time. Our collective paranoia has come true. We already live in an Orwellian dystopia where privacy has been irreversibly compromised and personal information is for sale to the highest bidder. Yet when it comes to playing ourselves out, we're almost always our own worst enemy.
Kawhi So Serious
If you were already suspicious that Kawhi Leonard might be some sort of alien life-form or futuristic android created in a basketball laboratory, then this didn't help. It was like watching a malfunctioning robot. You half expected sparks and smoke and nuts and bolts to start flying everywhere.
So naturally, we made jokes at his expense for like a week straight. Fortunately, Kawhi claims he was totally oblivious to the fact that it became a meme. For someone as shy as him, it's probably for the best. Besides, who cares what your laugh is like when you're leading the team with the best record in the league and you're about to get paid a whole lot of money in the next few months?
Nellie, Ballin'
If you were ever wondering whatever happened to legendary NBA coach Don Nelson, you're in for a rare treat. It turns out he's literally been living on a pot farm in Hawaii and hanging out with Willie Nelson and Woody Harrelson. Island life has been good him, and it showed when he arrived in Springfield last fall for the Hall of Fame induction ceremony looking like a mid-level mob boss.
The memes came fast and heavy as Nellie was nearly unrecognizable in a black-on-black suit, a goatee and slicked-back mullet, and what appeared to be a hemp necklace. Basically, he looked awesome. Anyone who says otherwise is just jealous. It's like that old saying: You might think you're cool, but you'll never be Hawaiian pot farmer Don Nelson cool.

The Curse of the Vice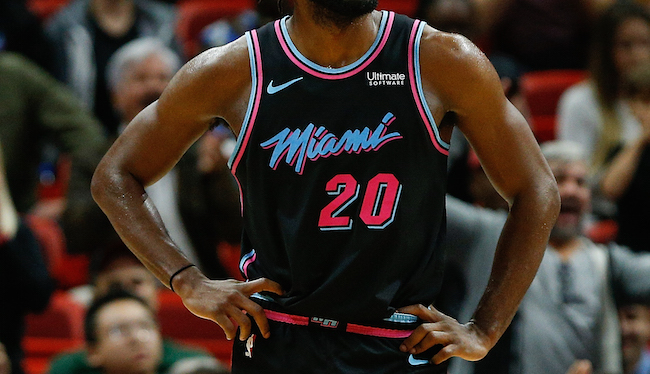 The Nike City Edition uniforms have given rise to some pretty incredible cross-promotional campaigns. The Timberwolves, for example, honored Prince one night at a home game earlier this season with purple and back jerseys, while their social media account nearly broke Twitter by posting Prince lyrics and video clips from the timeless Chappelle's Show sketch.