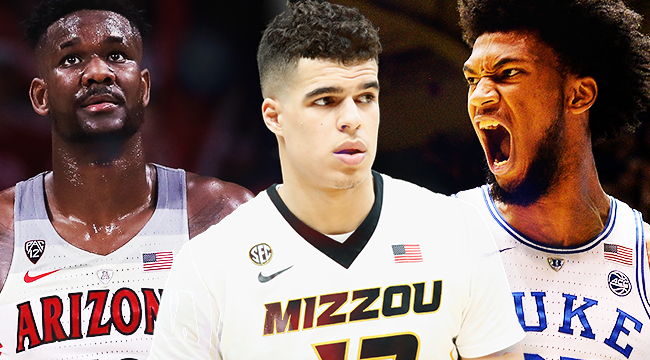 For many sports fans (and even casual observers), the NCAA Tournament is about brackets and rooting for laundry. Beyond that, it is a time when virtually everyone is watching the same sporting event in unison, and because of the single-elimination format, the element of "anything can happen" brings emotion and excitement to the table on a level that few events can match.
With that said, not every observer is focused on the same thing when it comes to March Madness and NBA die-hards are centered on players that can (and, in most cases, will) make the jump to the professional ranks. Despite the fact that the NBA Draft doesn't arrive until late June, the NCAA Tournament doubles as a coming-out party for some prospects on a national scale and, even if the NBA folks likely already know quite a bit about them, the bright lights can bring new observances to the table.
A lot can change between the beginning of the tournament until the end from a mock draft sense, but before tip-off arrives on the opening weekend, we will highlight five prospects in each region that are poised to make the leap to the NBA in short order. In short, the vast majority of the projected top-20 in the upcoming draft (with apologies to Luka Doncic, Troy Brown and Dzanan Musa) will be in action, and there is plenty of evaluation to be done.
Now let's roll through the list, beginning with the South region and working in alphabetical order.

South
Deandre Ayton (C, Arizona) – At this point, it would surprise a lot of people if Ayton did not land in the No. 1 overall spot when June arrives. There are other reasonable contenders (headlined by Doncic) but Ayton's utter dominance in the Pac-12 Tournament eased a lot of concern about him. In short, Ayton's upside is transcendent given his athletic talent, and if his mindset follows suit in an effort to maximize his athletic tools, the complete package is terrifying.
Mo Bamba (C, Texas) – Bamba didn't have the strongest finish to the season, but his freakish wingspan and athleticism provide for a soft landing spot within the top 10 picks in the upcoming draft. It would be nice if he assumed more of the load offensively, and that could start this week.
Shai Gilgeous-Alexander (PG/SG, Kentucky) – It would've been difficult to find pundits predicting Gilgeous-Alexander as a top-20 pick in the preseason but he's been tremendous. In fact, there is a school of thought that he could be the No. 3 point guard off the board in June (behind Trae Young and Collin Sexton) and his varied, mature game is a reason for that.
Kevin Knox (PF/SF, Kentucky) – Knox will likely be the first Kentucky player chosen in June and that could be within the lottery. There is a real market for combo forwards and, as the season has progressed, enough flashes have emerged to provide background on the notion that he could be a long-term starter in the NBA. There is huge value in that.
Lonnie Walker (SG, Miami) – Teammate Bruce Brown is also a first-round prospect but he is uncertain from an injury perspective and Walker's upside is higher. He is a tremendous athlete, and with more consistent production (perhaps this week), the lottery is a reasonable expectation.

West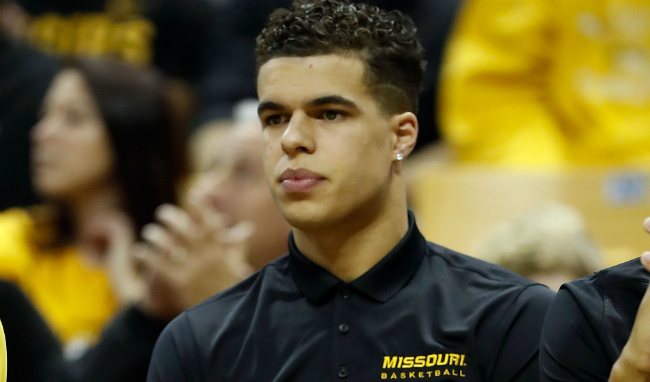 Keita Bates-Diop (SF/PF, Ohio State) – Ohio State's renaissance this season has been impressive and Bates-Diop is at the center of it all. The NBA needs more competent forwards, and even without real flash to his game, the veteran has done enough to project as a relatively solid first round choice.
Jontay Porter (C, Missouri) – We'll get to his brother momentarily but the younger Porter has really come on in recent days. There are questions about his athleticism and body type but Porter is extremely skilled and he chose the right time to play high-level basketball to lead Missouri to a tourney bid.
Michael Porter Jr. (SF/PF, Missouri) – Porter Jr. is easily the most interesting prospect in this region and, if his medicals check out after missing almost his entire freshman season, he could be a top-five pick. He has the skill set that NBA teams crave in that he can create from the wing with real size to defend and shoot over the top of the competition, and with only one game of real college tape, he could prove a lot in this setting.
Killian Tillie (PF/C, Gonzaga) – Tillie gets the nod as the fifth participant here, even with full knowledge that he probably isn't a first-round pick. There were a few others contenders (including Michigan's Mo Wagner and Gonzaga teammate Rui Hachimura) but Tillie has a profile that makes a ton of sense as an NBA role player and that means he could sneak into the top portion of the second round.
Robert Williams (C/PF, Texas A&M) – Williams joined Miles Bridges (we'll get there) in spurning potential lottery pick status to return for a sophomore campaign and he didn't submarine his stock. Granted, Williams probably won't go in the top-10 this year but he is still a sure-fire first round pick as a top-shelf athlete … plus the Aggies are fun when they're rolling.

East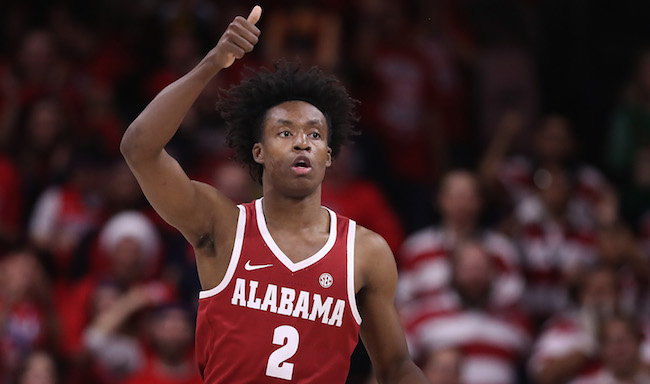 Mikal Bridges (SF, Villanova) – Villanova is a highly dangerous team and Bridges is a huge reason why. He is the quintessential 3-and-D prospect for today's NBA, and beyond that, he has really improved as a creator offensively. The 6'6 junior is playing the best basketball of his career, and if all goes well for the Wildcats, scouts will see plenty of him in the next two weeks.
Daniel Gafford (C, Arkansas) – Gafford is an athletic monster that has solidified first round status. In fact, he could probably join the lottery conversation with a good tournament run, even if Arkansas isn't necessarily likely to pull that off from a team perspective. Oh, by the way, he's also a highlight machine.
Collin Sexton (PG, Alabama) – Some casual observers probably remember stories of Sexton playing 3-on-5 earlier in the season and he made a huge impact in the SEC Tournament last week. There are still questions about his ultimate ceiling, but Sexton is a lottery pick who plays as hard as anyone in the country.
Landry Shamet (PG/SG, Wichita State) – Wichita State received a four seed from the committee and Shamet is the best player for the Shockers. He probably isn't going in the top-20 but the lengthy point guard has off-the-charts basketball IQ, a pure jumper and a ton of versatility that would play well at the next level.
Zhaire Smith (SG, Texas Tech) – Smith isn't the best player for the Red Raiders but he is the best prospect. It would be a surprise if he declared in 2018, but with progression, he could be a lottery pick next year. As for how he fits in this region, there aren't a ton of other prospects to choose from here (at least of the first-round variety), and Smith is wildly intriguing.

Midwest
Marvin Bagley III (C/PF, Duke) – As you'll soon see, the Midwest is the most loaded region at the top and all five of these prospects could conceivably land in the top 10. That, in itself, is crazy and Bagley might be the first to fly off the board. His motor runs hot, and more importantly, Bagley is both insanely athletic and highly productive. He may not have Ayton's ceiling, but he's going to be a good pro.
Miles Bridges (SF/PF, Michigan State) – As noted earlier, Bridges made the choice to come back and all indications are that he will be in the lottery mix anyway. He isn't as sexy as Bagley or Young, but scouts can learn more about him this week if the sophomore avoids falling in love with his jumper in favor of putting the ball on the deck and attacking with vigor.
Wendell Carter (C, Duke) – Carter is easily the No. 5 prospect in this region in terms of notoriety and that comes as a result of being overshadowed by two teammates (Bagley and Grayson Allen). Beyond that, Carter's game couldn't be less sexy, as he is fundamentally sound, skilled and ground-bound in a way that a typical lottery pick wouldn't be. He's fun for die-hards, though, and you can easily see him in an NBA game right now.
Jaren Jackson Jr. (C/PF, Michigan State) – More and more buzz continues surrounding Jackson, who is a terrifying defensive prospect that also happens to possess real offensive skill and a legitimate jumper. He probably isn't going to be a dominant offensive superstar in the NBA, but for a modern league that rewards rim protection and floor-spacing, Jackson is arriving at the perfect time.
Trae Young (PG, Oklahoma) – Young has really cooled off from the rampage he put together early in the season and Oklahoma has leveled off (to put it kindly) along with him. The talented freshman guard will have a high-profile opportunity to kick things off on Thursday, though, and no one would be surprised if Young went for 40-plus points against Rhode Island. He's that explosive.