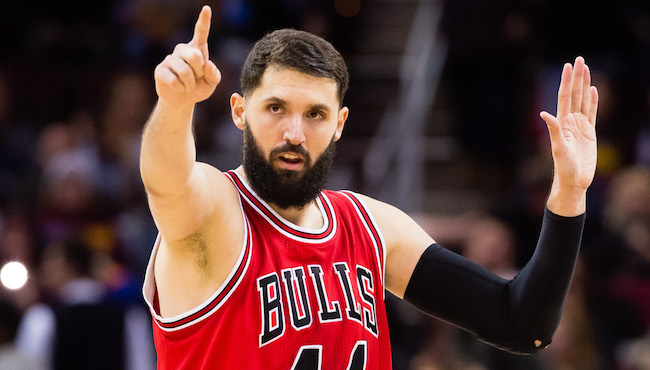 On Tuesday evening, a bizarre situation emerged in which it was widely reported that Chicago Bulls forward Nikola Mirotic was involved in a "serious altercation" with teammate and fellow forward Bobby Portis. As details continue to come to light, it is now being reported by K.C. Johnson of the Chicago Tribune that Mirotic suffered two broken bones in his face, in addition to the 26-year-old being evaluated for a concussion after taking a punch from Portis.
With that in mind, it appears that Mirotic will be on the sideline for "a few weeks," further emphasizing just how brutal this situation seemingly was.
While it may seem like a fluke or something that may have simply escalated out of control within the span of one practice, Vincent Goodwill of NBC Sports Chicago brings word that the scuffle was "three years in the making."

That language seems to indicate a history between the two players and there has been a battle for playing time between Mirotic and Portis over the past few seasons. Still, it is another thing entirely to have that rise to the level of legitimate physical violence and, given the damage, it seems we've reached that point.
In fact, Adrian Wojnarowski of ESPN has sources indicating that the incident went from verbal to physical in a hurry with the end result of Mirotic being down for a lengthy period of time.
The Bulls have formally announced that "surgery is likely to be required" for Mirotic to address "maxillary fractures" and he is considered to be on the shelf indefinitely. As for Portis, the team announced that disciplinary action is being evaluated and that will be an interesting subplot in the aftermath of the altercation.